Selecting the best trash can for your home kitchen can be confusing. With so many sizes, shapes, and types to choose from, how do you know which trash can will work best for your needs?
Picking the right trash can is easier if you remember the unique purpose of a kitchen trash can. Any trash can that controls odors and the spread of bacteria is a great option for a food prep environment. Swivel top, hands-free, and touch-free trash cans work well in any busy kitchen. You should be able to find a trash can that is just the right size and shape for your space, whether it needs to go next to your fridge or within a cabinet.
Trash cans can also make a design statement, so consider a sleek model that fits in with the look of modern kitchens. This way you can keep garbage out of sight while adding to your design scheme and making food prep a lot easier.
We've rounded up the top choices for kitchen trash cans. Take a look and you'll be sure to find a receptacle that's perfect for your own kitchen: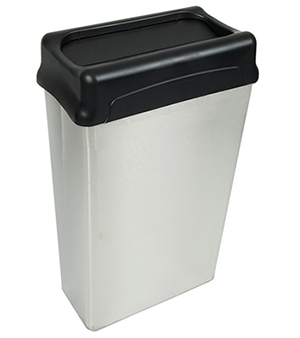 22-Gallon Stainless Steel Rectangular Trash Can
This 22-gallon rectangular trash can is slim, tall, and a great option for tight spaces. Whether it's stowed next to a kitchen cabinet at home or at the end of a counter, this stainless can provides a high-end look combined with industrial-grade durability.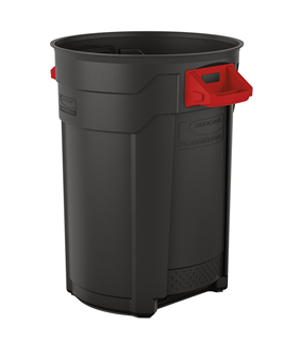 Commercial Utility Trash Can
The 32-gallon Suncast features everything you need in a kitchen grade trash can: durability, stability, and easy handling. It is made to withstand outdoor use, but also works well in a kitchen setting. This can's sturdiness is one of the many reasons it beats out the competition, like Rubbermaid's Brute. Its base is more steady and secure than comparable cans, even when the optional dolly is added to the bottom for easy rolling. Its handles make this trash can easy to maneuver in any space.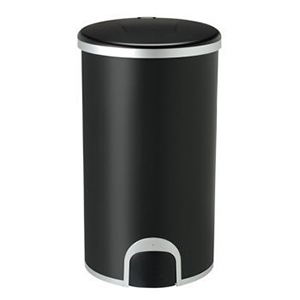 Black Toe Tap Dog Proof Kitchen Trash Can
Sleek, fingerprint-resistant, and hands-free, the Black Toe Tap is a great option for keeping your dog from digging through the garbage. Its non-skid base ensures stability. A simple toe tap opens the lid so you can operate the trash can even when your hands are full or you wish to keep them bacteria-free. This trash can is a good fit in any kitchen where you need to keep pets out of the trash or simply want to maintain a cleaner food prep environment.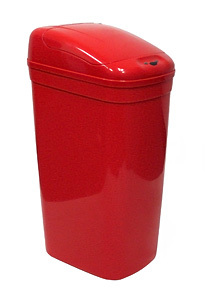 Touchless Automatic Red Trash Can
A bold design choice for modern kitchens, this touchless can opens automatically when you approach it for use. The lid opens for an entire year on one battery, and the can itself cannot rust, dent, or chip. Its design is compact with built-in air channels for easy bag removal. This trash can works well in a kitchen where convenient use and careful design are a top priority.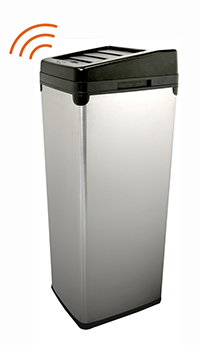 14-Gallon iTouchless Trash Can
With a compact footprint and space-saving lid design, this iTouchless model is a great fit for home or commercial kitchens with limited space. This trash can can also reduce the spread of bacteria: it opens automatically and seals again tightly, creating a germ-free and odor-free environment with its touchless technology.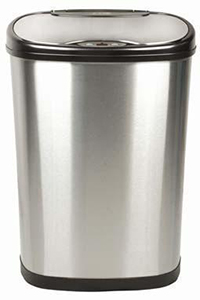 13-Gallon Touchless Automatic Kitchen Trash Can
The 13-gallon touchless trash can helps you dispose of food scraps during home food prep without coming into contact with bacteria on the can. This sleek trash can looks modern and operates 100% hands-free and foot-free.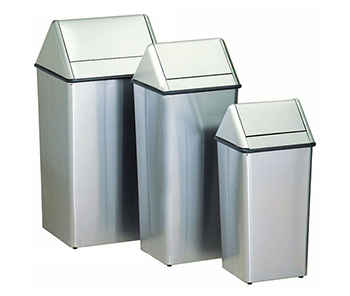 36-Gallon Stainless Steel Swing Top Trash Can
This swing-top trash can, like other models from Wastewatchers, combines utility and style. Its surface is fire-safe, puncture-resistant stainless steel, and it is ADA and OSHA compliant. You can add a heavy-duty plastic liner to this can and use its metal clips to hold trash bags in place. The swing-top lid makes bag removal easy.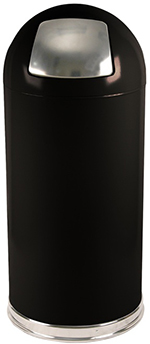 15-Gallon Metal Push Door Dome Top Trash Can
Dog-proof, self-closing for odor control, and available in six colors to match your design scheme, this push-door dome trash can works well in any environment. This is a practical choice for homes with a strong steel liner and outer construction.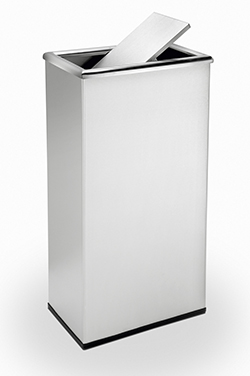 13-Gallon Rectangular Swivel Door Stainless Steel
This upscale trash can combines utility and design. Its slim footprint, hygienic bacteria-reducing surface, and swivel-top design makes this can suitable for use at home. It is also fire and corrosion resistant and includes a galvanized inner liner.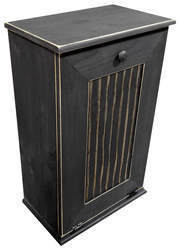 41-Quart Tilt Out Wood Trash Can
Keep your garbage securely out of sight with this wood tilt out kitchen trash can. Has a nice area on top for canisters or food preparation. With solid Pine it's sure to compliment any decor. Built to last. Our Handmade Trash Bins are made of high quality solid wood. Each bin is meticulously hand crafted by wood crafters with unprecedented attention to detail. Available in 11 colors.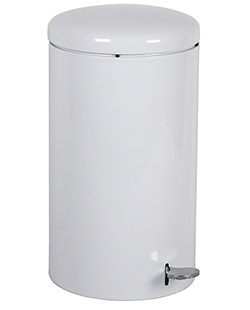 7-Gallon Metal Step Trash Can
Made with a fire safe, galvanized, removable steel liner, this OSHA compliant can offers hands-free use to reduce the spread of bacteria during food prep.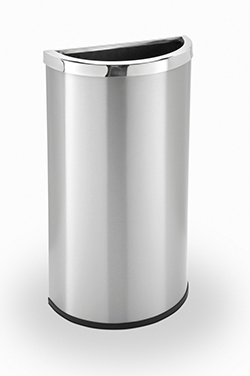 8-Gallon Half Round Stainless Steel Trash Can
Half round trash cans are great for tight spaces, and this particular half round model provides a touch of class, too. Its surface matches stainless steel appliances and is hygienic to maintain, while its liners make removing trash easier. The open-top lid makes tossing out trash simple.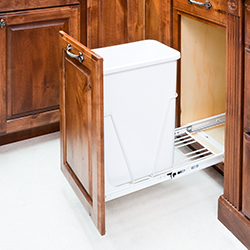 Under Counter Pull Out Trash Cans
This hard-to-find size is ideal for a pull out cabinet trash can system. Whether this is a replacement or for a new kitchen, expect the flexible, high-impact plastic of this trash can to stand the test of time.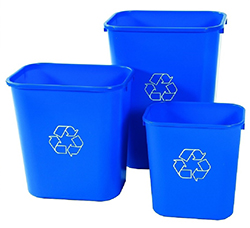 14 to 41-Quart Recycling Bins & Trash Cans
This two pack of recycling trash cans is a simple and convenient system for sorting plastic and glass recyclables. It's designed to fit in small spaces and can be purchased in a range of sizes. Whether in blue or green (or blue and green together), this set is a good way to start a recycling program in your home.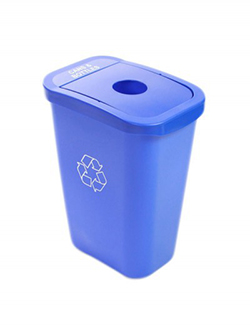 10-Gallon Billi Box Recycling Bin or Trash Can
The compact footprint but large capacity of this recycling bin make it a versatile choice for your kitchen. You can match any of its four lid colors to a coordinating bin color so your recycling trash can meet both your recycling and design needs.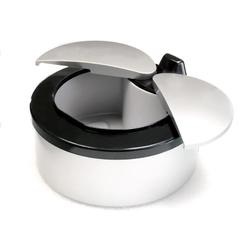 Lady Bug Trash Can
The super compact Lady Bug touchless can is what you want on your kitchen counter when your hands are full of composting scraps. This modern model looks at home near an office desk or in any well-designed kitchen.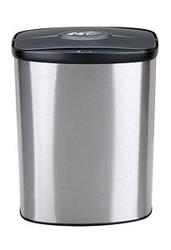 2-Gallon Stainless Steel Touchless Trash Can
The compact 2-gallon touchless can works great atop kitchen counters for containing compost or other food scraps. It has all the benefits of a larger automatic model -- sanitary, controls odors, easy to use -- and its stainless steel finish makes this trash can easy to clean.
Choose The Best Trash Can For Your Kitchen
A good trash can choice for your kitchen fits in the right place, keeps the spread of bacteria low, makes bag removal simple, and is easy to use even when your hands are full with food prep. When you're shopping for the perfect choice for your home, you can find what you need for your kitchen in our full line of trash cans.