Commercial Trash Cans Cleaning Services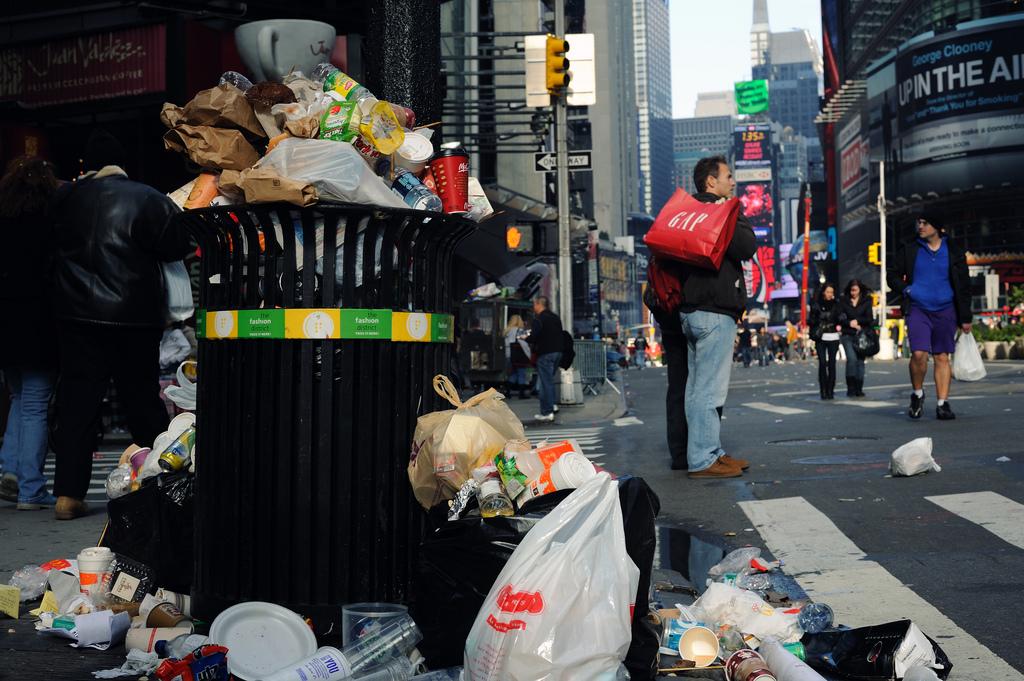 Outfitting your commercial property with proper trash cans helps keep your business clean, but these containers can end up becoming a problem.
Odors from food and other items can build up inside them, which can create an unpleasant environment for employees and customers. Having dirty trash cans around could also pose a health and safety risk due to bacteria or mold growth.
You could [clean your trash cans yourself]*, or you can address these problems while saving time and money by hiring a commercial trash can cleaning service.
How Often Should Trash Cans Be Cleaned?
When using this type of service for your company's trash cans, you should schedule cleanings about once a week, especially if your business produces large amounts of garbage or if your trash cans are exposed to outdoor elements like excessive heat or rain.
How Much Do Trash Can Cleaning Services Cost?
The prices for each commercial trash can cleaning service vary depending on the company you choose. In general, many companies charge a flat fee for one can and reduced fees for each additional trash container. Some companies might offer reduced rates if you sign a contract with them for ongoing service, such as a 6 or 12 month period.
What Do Commercial Trash Can Cleaning Services Do?
Before agreeing to a contract, you'll need to make sure you're dealing with a reputable company that uses the right types of equipment and provides the services you need. Good trash can cleaning companies use the following:
High-pressure equipment to thoroughly clean each can
Antibacterial cleaning detergents to get rid of germs and ensure that cans are safe and hygienic
Deodorizing products to eliminate odors and help prevent new ones from building up inside each can
How Can I Find a Reliable Cleaning Service?
If you've never used a commercial cleaning service before, take time to find one with a solid reputation. There are several franchises and nationwide cleaning companies available, as well as locally owned companies. You can also contact the International Janitorial Cleaning Services Association or the Institute for Inspection, Cleaning and Restoration for recommendations.
When choosing a cleaning service, it's important to look for ones that are certified. This helps ensure that you're dealing with a professional company that will provide quality service.
What Are Some Commercial Cleaning Services?
The following companies offer commercial trash can cleaning services in different parts of the United Statesl. Every area in the United States will have some regional experts and specialists by industry but here are a couple to get you started:
OC Clean a Can
OC Clean a Can cleans commercial cans and dumpsters throughout the Orange County, California area. They specialize in providing eco-friendly cleaning and can accommodate dumpsters that are as large as 3 yards.
VIP Bin Cleaning
VIP Bin Cleaning is a franchise company that offers commercial cleaning services throughout the U.S. and other countries. Each locally owned franchise has its own commercial cleaning unit that effectively removes waste and odors from bins, cans, and dumpsters.
Sparkle Cans
Sparkle Cans is a family-owned business cleans commercial trash cans and bins throughout Riverside County, California using state-of-the-art equipment and non-toxic products for sanitizing and deodorizing.
Mr. Clean-a-Can
Mr. Clean-a-Can started cleaning residential and commercial trash cans in the Nicholasville, Kentucky area and expanded to additional cities and municipalities. They take pride in their vehicles that emit no contaminants into storm drains, which helps reduce runoff pollution in rivers and oceans.
Ace Recycling & Disposal
Ace Recycling & Disposal is a family-owned business since 1980 serving multiple cities in the Salt Lake County area. In addition to trash can cleaning, they also provide recycling and waste disposal services for businesses.
Trash Can Cleaning Services for Your Business
No matter what type of business you run or what kind of commercial facility you operate in, making sure your trash cans are clean is an important part of providing a safe and pleasant environment for your employees and customers. Look into hiring a commercial trash can cleaning service in your area to keep your trash containers in good condition.