Theme parks have become a regular facet of both American and world culture. But how much do you know about them? There's a huge variety of interesting facts and figures about the wide world of theme parks and amusement parks. Here, we'll share both the good and the bad, the interesting, and the bizarre.
One of the first facts about theme parks is how important trash cans are to their operation. Trash cans are vital to keep theme parks clean and safe for everybody, and Trash Cans Unlimited has great deals on the trash cans that theme parks need.
Follow along to learn about everything from attendance and roller coaster statistics, to the history and development of theme parks.
Fact 1. Disney is a Trash Innovator
First up, you can't talk about theme parks without talking about Disneyland. As one of the largest parks in the world, it's become a magical place that has found many seemingly magical solutions to common problems.
For instance, their AVAC trash disposal system uses pneumatic tubes to whisk trash away from different locations, instead of traditional trash collection methods of emptying cans one by one by hand.
Walt Disney, ever the innovator, invented the modern design of trash cans commonly found in parks, restaurants, and other public spaces. He noticed the round mesh trash cans that were common at the time looked gross and people didn't want to go near them because of the bad smell. He created a rectangular design to help them fit in more places. Add in the trash can lid with the flap to hide the gross appearance while also containing the smell, and you have trash can innovation!
Fact 2. Disneyland is the Most Popular Theme Park in the World
Walt Disney may not have realized how popular his parks would become, but luckily, he still felt the need to innovate waste management and disposal. Here are the top 5 most visited parks in the world each year:
Magic Kingdom Park at Walt Disney World Resort: 20,963,000.
Disneyland Park: 18,666,000.
Tokyo Disneyland: 17,910,000.
Tokyo DisneySea: 14,650,000.
Universal Studios Japan: 14,500,000.
It's no surprise that Disneyland is the most visited theme park in the United States and in the world — probably due to Disney's innovative trash disposal system!



Fact 3. Theme Parks have Low Injury & Fatality Rates
While amusement parks are extremely safe, they're not immune to injuries and fatalities. Here are a few statistics on the average amount of injuries and fatalities at amusement parks:
From 1987 to 2000, there were an average of 4.5 amusement park fatalities per year. That's astronomically low, given how many people go to amusement parks each year.
Every day, from May to September each year from 1999-2004, there were an average of 20 injuries a day that required hospitalization (guests under 18).
In 2011, 1,204 people were injured at 400 amusement parks across the US.
49 injuries were reported in 2019 in Central Florida theme parks.


Fact 4. The World's Oldest Operating Amusement Park Opened in 1583
Dyrehavsbakken, or "The Deer Pasture's Hill" or "Bakken," is the oldest amusement park in the world, and the second most visited attraction in the country, Denmark. It was opened in 1583, and originally, Dyrehavsbakken drew crowds thanks to its fresh spring water, which brought entertainers and vendors.
Similarly to Drehavsbakken, another precursor for the concept of the modern amusement park is the "pleasure garden," which first appeared in Europe as permanent areas that were set aside specifically for outdoor entertainment. The attractions included fountains, flower gardens, bowling, games, music, dancing, staged spectacles, and a few primitive amusement rides. We've written quite a bit about the other types of parks in the world, as well as some prominent ones in the US.

Fact 5. Trolley Parks Made Public Transportation Fun & Profitable
Trolley parks are another precursor of American amusement parks with an interesting history. The late 1800s marked the emergence of public transportation, and with it, electric traction (trolley) companies began to appear all over the urban US. Electric and light companies charged the trolley companies a flat monthly fee for electricity, regardless of how they were used, so the trolley magnates felt the need to make up the financial slack.
These companies needed to get the public to ride the trolleys on the weekend, so they would build amusement parks at the ends of the trolley lines, to encourage people to pay and ride the trolley to an amusement area. And thus, the trolley park was created to increase revenue.
In the past, there were hundreds of trolley parks in operation throughout the United States. However as of this blog post's publishing date, only twelve remain. These trolley parks offered picnic facilities, dance halls, restaurants, games, and a few amusement rides. But you can still find some of them, like Oaks Amusement Park in Portland, Oregon.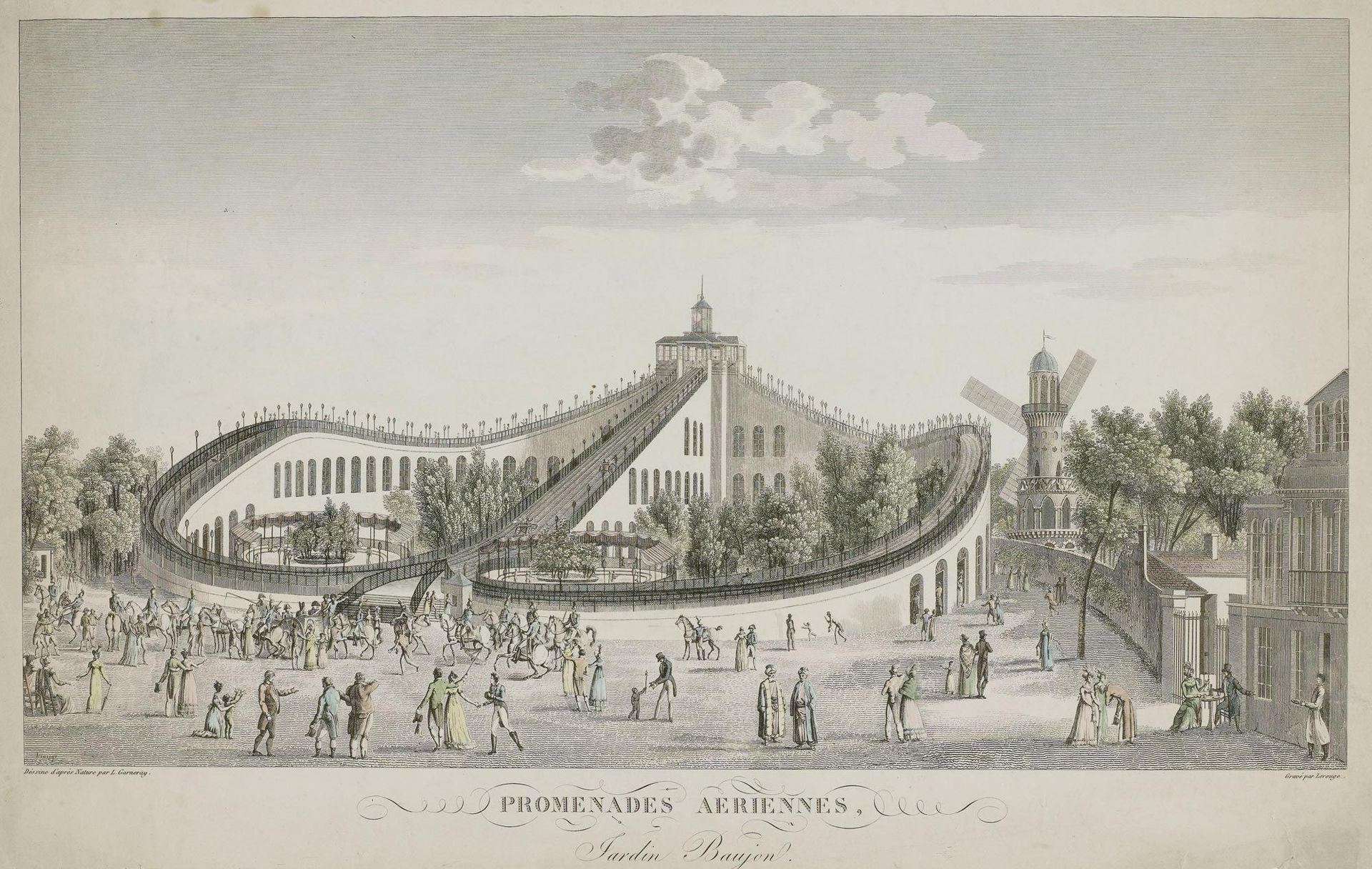 Fact 6. Catherine the Great Invented Roller Coasters
You can't talk about theme parks without talking about roller coasters since their predecessors aided in their creation and development, and are still one of the main attractions for modern amusement parks.
The fact that early versions of roller coasters were invented by Catherine the Great is probably why she was called the Great. Jokes! She probably got the idea from 16th-century ice slides that were popular in the region during the colder months. The earliest coasters were wooden rides in which people boarded a vehicle and rolled down sloping hills. They were referred to as "Russian Mountains" and were introduced at the Russian Imperial Summer Palace in the late 18th century.

Fact 7. The Fastest Roller Coaster in the World goes from 0 to 150 MPH in 5 Seconds
The fastest roller coaster in the world is the Formula Rossa in the UAE, which goes from 0 to 150 MPH in 5 seconds! The track sits on a Ferrari racing course and swerves around 1.5 miles of track, lasting only 90 seconds.

Fact 8. The Tallest Roller Coaster in the World is 456 Feet
Kingda Ka is the tallest roller coaster in the world, reaching a height of 456 feet. It currently lives at Six Flags Great Adventure in New Jersey, and has been the world's tallest roller coaster since 2005. The ride takes passengers from 0 to 128 MPH in 3.5 seconds and lasts only 50 seconds.
Like we said before, theme parks need trash cans. In addition to the trash can innovations at Disneyland, it was Disney that determined the ideal distance between trash cans is 30 feet. That's a lot of trash cans when you consider the square footage of the entire park!
Trash cans are needed everywhere, and Trash Cans Unlimited supplies the best trash cans for the best deals. If you're looking for trash cans to meet any need, and if you need them shipped quick, we have sanitation and disposal available for many different uses and situations. Get in touch with us or start browsing our product lines today.