Florida's Walt Disney World can be described as a modern wonder of the world. At about 25,000 acres (39 square miles, slightly smaller than Hilton Head, South Carolina or about three-fifths the size of Washington, D.C.), the most-visited vacation destination in the world entertained more than 55.8 million guests in 2017. With four theme parks, two water parks, 27 Disney-themed hotels, golf courses, a camping resort, and several other attractions including Disney Springs and the ESPN Wide World of Sports Complex, Walt Disney World is a mainstay of American tourism.
In 2017, the park produced a staggering 24,000 tons of solid waste, including food waste, aluminum, steel, paper, cardboard, and plastic. Despite this, the park has announced a 2020 goal of diverting 60 percent of its trash from landfills and incinerators. This goal is only possible because of Walt Disney World's unique trash collection system.
By understanding how the "House of Mouse" manages its solid waste problem, other large-scale organizations can gain insight on resource management and recycling strategies.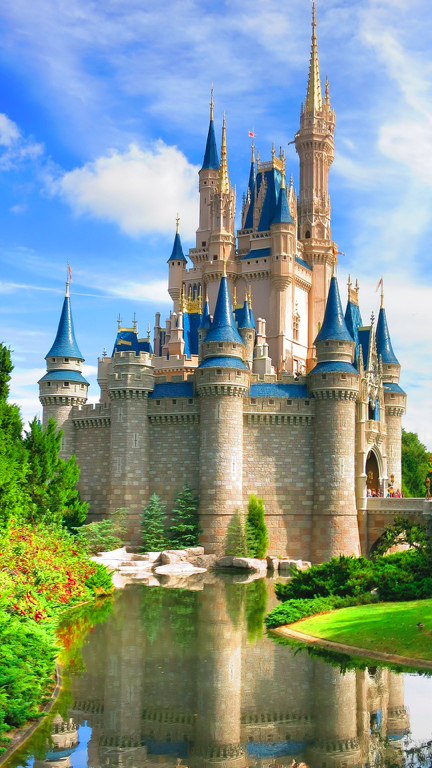 (Courtesy: Pixabay)
Underneath Walt Disney World
Central Florida presents unique architectural challenges . Built largely on reclaimed swamplands, water is an ever-present concern in and around Orlando. The area's unusually high water table was a significant factor in the development of one of Walt Disney World's defining features – one most guests are not aware of.
According to legend, Walt Disney was bothered when he saw a cowboy walking through Tomorrowland at the Disneyland resort, on his way to report to his station in Frontierland. While cast members walking back and forth through other areas may be normal at other theme parks, Walt Disney thought the sight broke the "magic." So, when he learned of the water table problem while planning Walt Disney World's Magic Kingdom, his solution was simple: raise the park up one full story. The finished landscape of the park now slopes gradually upward from the gates, to an elevation of two to three stories. .The nine-acre "building" on the ground floor houses a set of utility corridors, or "utilidors." These utilidors hold all the park's critical services, such as costuming, food preparation, emergency services, employee services, and security, and allow employees to travel from one point in the park to another undetected (and unobstructed) by the guests. The main level of the Magic Kingdom sits – at its highest point – 108 feet above sea level.
A key component of the utilidor system is AVAC, or the Automated Vacuum Waste Collection system. In key locations throughout the Magic Kingdom, custodians can discreetly empty the park's wide array of conveniently placed trash cans into one of 17 collection ports. The system then sucks this trash through pneumatic tubes once every 15 minutes, depositing it in the central collection point behind Splash Mountain in Frontierland. There, the solid waste is sorted, compacted, and removed from the property. The estimated cost of this system is about one million dollars. Unfortunately, AVAC only exists in the Magic Kingdom and, in a smaller form, under EPCOT, where it services "Spaceship Earth" and "Innovations." The system was discontinued for future installations due to the high construction cost.
While this part of the Disney trash management system is technologically impressive, it is still based on traditional waste collection — that is, placing out a trash can, waiting as it fills, and having someone empty that trash can. What is truly remarkable about Disney's success with AVAC is how it makes trash collection a park attraction
Trash Can Robots and Selling Custodianship
From 1995 to 2014, the Magic Kingdom boasted a unique feature. Guests sometimes found themselves being entertained by PUSH, the Talking Trash Can. A remote-control robot operated by a puppeteer in plainclothes, the trash can (and its recycling bin companion, Pipa, which traveled Disney's Animal Kingdom) convinced users to make use of the park's many trash cans.
A myth about Walt Disney is that he once studied how long it would take for a customer looking for a trash can to give up and drop the trash on the ground. He counted an average of thirty footsteps. To this day, trashcans are thirty feet apart throughout all Disney properties. Not only that, but the cans are a part of the décor. They are painted to look inviting and match the area where they're found, and many actively and amusingly ask for your trash.
Most of Disney's trashcans are accompanied by recycling bins, and each bin is clearly labeled with its park's icon or logo, appearing more as a design point than an afterthought. Finally, Disney literature and signage makes it clear that littering is not appreciated.
The Disney system is far from perfect, and lessons can be learned from what they got wrong, too. A labor dispute regarding tracking of trashcan emptying caused a bit of a stir in 2016. Unite Here Local 362, which represents Walt Disney World's custodians, felt that the park's test system of having up to 40 employees armed with iPhones photograph and monitor fill levels of the park's solid waste bins created an issue of distrust and spying in the company. "What is the purpose?" asked Eric Clinton, the local Unite Here chapter's president, to the Orlando Sentinel. "Are they trying to determine that a specific worker spends too much time in a certain area? Are they trying to determine that some workers walk faster than others? They haven't told us. These things are very concerning."
Boiled down to the undisputed basics, a proper waste collection system must:
Supply enough waste collection containers to make good custodianship easy
Make waste collection attractive and even fun for the guest
Simplify waste disposal for your custodial staff and make disposal as invisible to the guest as possible
Be clear with signage and guest instructions
Be unobtrusive to those that service the system
A good first step is to ensure that you have the right bins for your business. Trashcans Unlimited offers the best prices on commercial and decorative trash cans and is a trusted source for all your trash can needs.
Trash collection is easy to overlook but is one of the first things that can make an impression on your guests. The experience you offer depends on your ability to handle the small details well. Taking the time to set up and implement a solid waste disposal plan that is guest-friendly is an essential step for any business.