Despite the NFL having the largest fan base countrywide, the honor of having the largest football stadiums in America goes to colleges and universities, hosting an average seating capacity over 100,000, while NFL stadiums have a capacity of 70,000 to 80,000 seats.
The Big House in Ann Arbor, Michigan, where the University of Michigan Wolverines play, is the largest football stadium in America and the third largest stadium in the world, with an official seating capacity of 107,601.
MetLife Stadium in New Jersey is the largest NFL stadium with an officially listed capacity of 82,500 seats.
That being said, trash collected at football stadium events has grown to an average of 80,000 pounds per game, most of which ends up in landfills. That fact caused stadiums to look at ways to achieve zero-waste initiatives to reduce the trash going to landfills. Keep reading to find out how football stadiums rank in seating capacity, and their waste reduction efforts.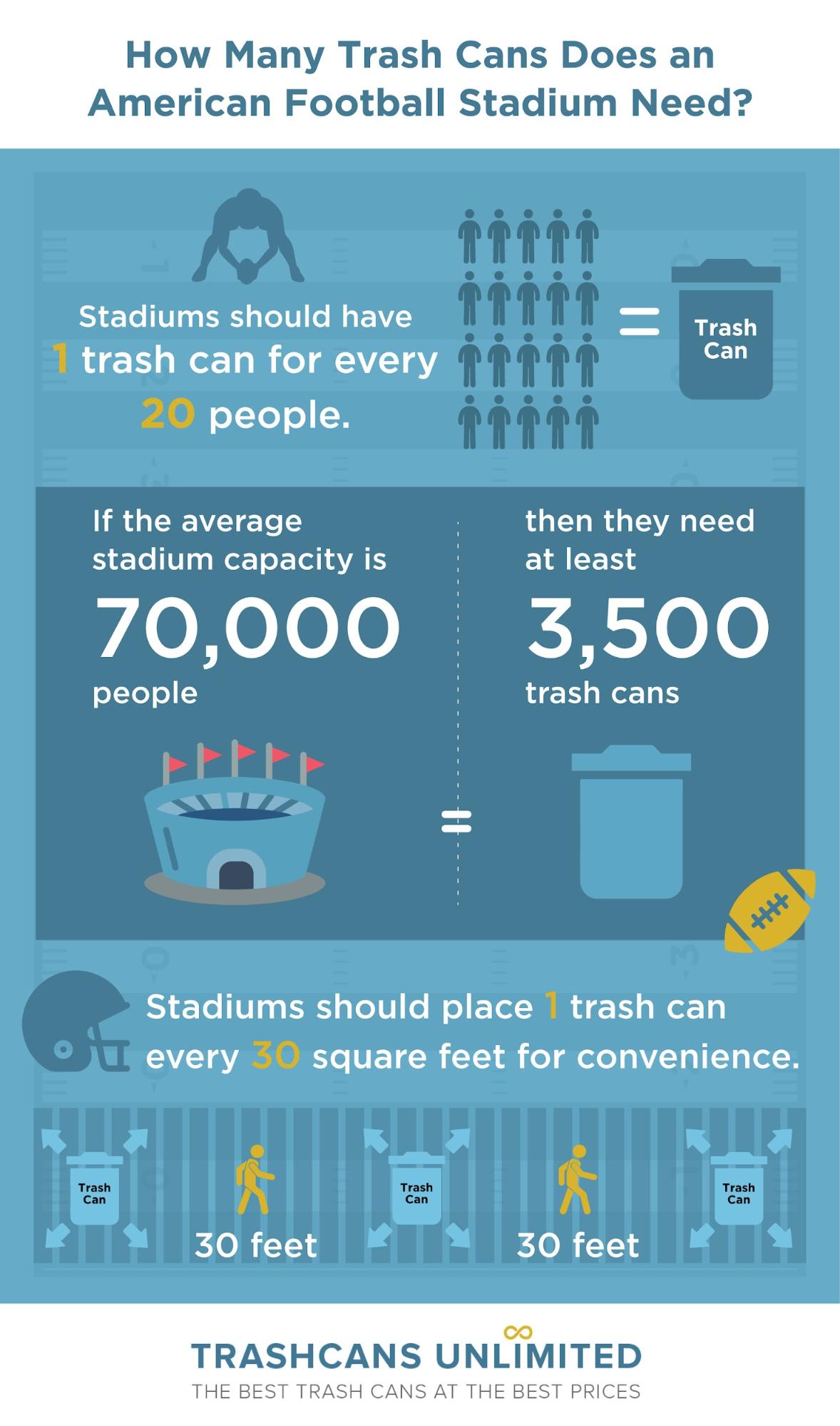 3 Biggest American Football Stadiums
The 3 biggest stadiums in the United States belong to the Big Ten conference and include the University of Michigan, Pennsylvania State University, and the Ohio State University.
1. University of Michigan
Michigan Stadium is often referred to as the Big House because of its 107,561 seating capacity, although attendance exceeded 110,000 for games against Notre Dame and Michigan State. The university's latest zero-waste efforts reached 73% in 2021.
2. Pennsylvania State University
Although Beaver Stadium has existed in different forms since 1909, the current stadium was built in 1960 on the east side of the campus and seats up to 106,572, making it the second largest football stadium in the US. The fans can produce up to 100 tons of waste on a game day. By adding more bins, changing to clear plastic bags, and advertising on containers, the university was able to reach 90% zero waste. During its 2013 season, the stadium reached 100%.
3. The Ohio State University
The Ohio State University's football stadium design was based on the Pantheon in Rome and is referred to as the "Horseshoe" or "Shoe". Its official seating capacity is 104,944; however, it set a record of 110,045 in 2016. The university has also set records with its zero-waste initiatives. It has maintained a zero-waste status for seven years by diverting 90% or more of its game-day waste from landfills. It ranks first in the Big Ten for landfill diversion rates. We can all afford to be more like Ohio State University and recycle more.
5 Largest NFL Stadiums
1. MetLife Stadium
MetLife Stadium in East Rutherford, New Jersey, is home to the New York Jets and the New York Giants. Its seating capacity of 82,500 makes it the largest NFL stadium in America. It also operates a recycling program that received the Outstanding Achievement in Recycling.
Part of the program's success came from placing trash bins inside and outside the stadium. The facility also offered special bags to tailgaters to separate trash from recyclables. MetLife is one example of the NFL's league-wide effort to achieve 100% zero-waste participation.
2. FedEx Field
Take, for example, the second largest NFL stadium. FedEx Field has 82,000 seats for fans of the Washington Commanders and is one of the worst concession offerings in the league. Complaints were so high that the Washington Commanders revamped the menu in 2016. Unfortunately, the change did nothing to improve the food.
As one reviewer wrote, "The food is bad. It's expensive, and everything is awful." Another reviewer suggested that the poor food might be a reason why the stadium was always overflowing with trash. So, what are some of the biggest football stadiums in America doing to achieve zero-waste goals of over 90% of their trash being diverted from landfills?
3. Lambeau Field
It shouldn't come as a surprise that the coldest NFL game on record was played in 1967 at Lambeau Field in Green Bay, Wisconsin. Even with a game-time temperature of -13 degrees, over 50,000 fans attended, leaving 30,000 of its 81,441 seats empty. Green Bay Packers did beat the Dallas Cowboys 21 to 17. Given Wisconsin's extreme cold, conserving energy plays a large role in Lambeau's conservation program. As part of their program, the Packers added recycling containers to the third-largest NFL stadium.
4. AT&T Stadium
AT&T Stadium is home to the Dallas Cowboys and is located just west of Dallas in Arlington, Texas. Although the seating capacity is listed at 80,000, over 100,000 fans can be accommodated if standing-room capacity is included. With standing-room-only, the amount of trash generated at a Cowboy's game can exceed the average of 80,000 pounds. Having extra receptacles in concrete or stainless steel can help keep the overflow contained.
5. Arrowhead Stadium
The football field is located in Kansas City, Missouri, and seats 76,416. The Kansas City Chiefs have played in Arrowhead Stadium since it was built in 1972. According to Guinness World Records, a percentage of those 76,416 seats contributed to setting the world record for the loudest crowd roar at a sports stadium. The roar of 142.2 decibels occurred on September 29, 2014, as the Kansas City Chiefs beat the New England Patriots 41 to 14.
TrashCans Unlimited
As professional and collegiate stadiums work to achieve their objectives, they need sufficient receptacles to hold the trash for the thousands of fans. Whether it is outdoor trash cans or recycling bins, having enough places for people to leave their trash is vital to achieving zero waste. Without enough containers, people try to cram more trash into containers until they are overflowing, and trash ends up on the floor, creating a negative fan experience.
Whether you're looking for outdoor trash cans in concrete containers or a logo series of stainless steel indoor bins, our extensive inventory can meet your needs. No matter your business, contact us to find the best solution for recycling and waste management.