The world has changed quite a bit in the past century. From individually packaged food servings to disposable diapers, more waste is produced now than ever before. So, with this increase, there is an urgent need to reduce, reuse, and recycle. And this goes double for universities, which are massive sites of consumption and waste production.
Waste at Universities
It should go without saying that Earth has a trash problem, and universities, though they produce educated minds, are not exempt from producing waste as well. As institutions of knowledge and pillars in communities, universities should actively work to improve their communities and set an example for progress by increasing university recycling efforts.
Not only that, but a comprehensive campus recycling program can significantly benefit a university, cutting operating costs, saving energy, and help universities solidify a reputation for environmental responsibility. Each college student on average produces 640 pounds of solid waste each year, including 500 disposable cups and 320 pounds of paper. It was estimated that college students in the United States alone contribute over 200 million tons of waste in a year. According to Tufts University, there is a significant spike in the amount of solid waste generated on college campuses at the end of the year, when their students leave behind an average of 230 tons of waste.
Given these numbers, universities have an imperative to make waste management a priority, and on top of that, to implement recycling and other environmental protection programs. This will ensure a more sustainable and cleaner future.This garbage mostly ends up in landfills, where it's compacted and buried. As the waste stream continues to grow, so will the pressures on our landfills, our resources, and our environment. Water, air, and soil pollution, acid rain, climate change, extinction events–the list of the negative consequences of wastefulness goes on.
A large public university could easily produce over one-hundred tons of solid waste each year. For many universities carrying out a successful recycling program is both an economic imperative as well as a smart PR move.
4 Recycling Challenges at Universities
Universities face unique challenges when it comes to launching and carrying out a campus recycling program. Unlike most businesses and corporations who take on recycling, universities have multiple stakeholders who may or may not see the value in recycling. Some adjunct employees may not be on campus enough to properly absorb campus norms and expectations around recycling.
Universities are also challenged by the sheer size and variety of recycling needs. A 2014 study from the University of Iowa determined that 51% of students in their dataset recycle "as much as possible," while only 9% said they don't recycle at all. The two main reasons cited for not recycling were lack of available space and no available information on how and where to recycle.
Trying to tackle everything from food waste to electronics is no small task. So, component by component of a university, what are the major challenges?
Challenge 1: COVID-19
Covid disrupted our daily lives and shook our world in ways many of us can't even imagine, including recycling and waste management and university campus life. Its effect on campus recycling efforts posed new challenges to overcome.
Here are some examples of how universities overcame the challenges of COVID to advance recycling efforts:
Miami University in Ohio raised awareness of zero waste, food waste, and recycling virtually on social media during the pandemic.
North Carolina State University hosted virtual focus groups during COVID to gather information about the knowledge base on campus related to waste minimization and gain ideas on how to improve waste reduction and recycling efforts.
Xavier University in Louisiana launched a "Digital Recycling Awareness" campaign, due to COVID‐19 in‐person restrictions on campus, on the concept of "Reduce, Reuse, Recycle" to influence on and off campus recycling.
Fortunately, college students have no shortage of ingenuity and familiarity with social media and virtual marketing.
Challenge 2: Dining Services
Food waste from dining halls is a major issue for universities. You have a massive amount of throughput every day. Thus, composting must play an integral role in your recycling program. Sending food and kitchen waste to an off-site composting facility is one common way to dispose of this waste responsibly. Many schools are also reusing fryer oil and replacing polystyrene take-out containers and single-use plastic utensils with biodegradable alternatives.
Challenge 3: E-Waste
Not only are these items expensive to dispose of, they can also contain hazardous materials that can be quite damaging to the environment.
Challenge 4: Stadiums
Opportunities to recycle and create waste management programs at stadiums exist both inside the venue and outside in the parking lots. Plastic and aluminum beverage containers are the most common recyclables generated by fans while tailgating, and these materials may be collected either separately or mixed together. Cardboard is another recyclable generated in high volumes at stadiums, primarily by concessionaires. As the cost of trash disposal continues to increase, recycling can be a financially attractive option— particularly with cardboard.
3 Target Areas for Waste Reduction & Increased Recycling at Universities
Let's dive deeper into the different areas at a university that can be positively impacted by waste reduction and recycling.
Concessionaires
Concessionaires can be a key partner in facilitating recycling. Most stadiums do not allow patrons to bring in consumables from the outside, so concessionaires can control most of the waste that is generated. Many concessionaires discard tons of corrugated cardboard, one of the easiest products to recycle.
Work with concessionaires to cut single-use plastics, and use packaging that cuts down on waste and is conducive to recycling.
Additional coordination with dining halls at the university can result in much better use of food and its disposal.
In addition to reducing food waste, universities can take other steps to reduce other waste in the cafeteria:
Use dishware to serve meals instead of disposable plates and single-use plastics in your campus cafeterias.
Instead of selling bottled water, install water fountains throughout your campus.
Parking Lots & Tailgating
Tailgating and stadium parking lots can be a primary site of poor trash disposal.
Hand out collection bags for stadium attendees when they enter the parking lot, and ask folks to collect their own recyclables for easy disposal when leaving.
Strategic placement of stadium recycling bins as well can make disposal and collection more efficient too.
Hallways, Restrooms, & Other Public Areas
Within the university itself, recycling bins in seating areas, restrooms, and other public areas are a great way to manage waste. On top of this, these areas provide plenty of room for educational materials too.
Switch to refillable dispensers for cleaning products in every room.
Use high-traffic areas to promote your recycling goals by adding large, attractive recycling stations with signage to promote your messaging
Avoid paper products other than toilet paper in the bathrooms.
Placing e-waste bins in residence halls and near computer labs can help encourage proper disposal of these items.
Determine a process for collecting televisions, computers, printers, ink toner, batteries, and light bulbs.
Using LED bulbs instead of regular ones automatically means fewer replacements since LED bulbs last up to 10 times longer.
Set computers, printers, photocopiers, and other devices to the most efficient settings.
Make materials and resources available electronically to reduce the amount of paper used.
5 Strategies that Work to Increase Recycling at Universities
Increasing recycling starts with reducing waste.
Practicing Waste Prevention
Waste prevention means using less material to get a job done— and ending up with less waste to manage. In addition to environmental benefits, waste prevention saves money. Take a good look at your recycling collection data to see ways to reduce waste first. The most common forms of waste prevention are reducing, reusing, and donating.
Reduce
Modify current purchasing practices to reduce the amount of waste generated. For example, you can set printers and photocopiers to default duplexing and
Products can be purchased in bulk to reduce the use of packaging materials and there are even products that come with no packaging or use recycled content.
There are many ways to make universities more environmentally friendly, and it starts with a reduction in materials used, which is not only good for the environment, but it also saves money.
Here are a few ideas for waste reduction at universities:
Set computers, printers, photocopiers, and other devices to the most efficient settings to reduce toner, paper, and electricity usage.
Make materials and resources available electronically to reduce the amount of paper and toner used.
Purchase products made with recycled materials.
Get products with minimal to no packaging.
Purchase products in bulk, but don't over purchase.
Purchase from environmentally conscious vendors that practice waste reduction as part of their daily business.
Reuse
Reusing products and packaging prolongs their useful lives, delaying final disposal or recycling. Reuse is the repair, refurbishing, washing, or recovery of worn or used products, appliances, furniture, and building materials.
This one is simple–wherever you can reuse something, do it. Reuse not only prolongs the life of the packaging in question, but it also delays the final disposal or recycling of the object used.
Here's a few ways you can reuse things at a university:
Reuse boxes and packaging whenever possible.
Reuse furniture and office supplies.
Get durable and reusable towels, tablecloths, and napkins.
Use glass food storage containers instead of disposal wrapping.
Switch to refillable dispensers for cleaning products in every room.
Avoid paper products other than toilet paper in the bathrooms.
Use dishware and silverware to serve meals instead of disposable plates and utensils.
Instead of selling bottled water, use a water dispenser.
Donate
Prevent waste by donating products or materials to charities or nonprofits. Learn all the local donation locations in the area, and set up a donation system to get excess food and items where they need to go.
For example, you can donate canned, and non-perishable food to a local food bank, or donate clothes, furniture, and school and office supplies to organizations.This is one of the best ways to ensure that you are not just throwing things away. Task your waste manager with figuring out how best to do this.
Turn to Trash Cans Unlimited to Get the Right Recycling Bins, Liners, Bags, & Signs
Use the proper recycle bins, liners, bags, lids, and signs and labels to make it easy to understand where various types of waste go, encourage participation, and reduce contamination and waste.
To avoid confusion, the recycling bins should look different from trash cans and be easy to identify.
Strategically place recycling bins where students and faculty will easily notice them and also be inclined to use them.
Color-coordinate or use lids to make sure the right recyclables are going in the right bin and keep trash out.
Lids with round holes on recycling bins for bottles and cans will reduce contamination, which is when a foreign material (like a half-eaten pizza slice) is mixed into the recycling bin, making the recyclable material impure and difficult to recycle.
The labels on the bins should be large and clear with both words and pictures indicating what is being collected.
Make sure to clearly label the trash cans too.
Often haulers are flexible on the types of receptacles they accept, so find what works best for your university. Here's some examples to get you started:
When selecting recycling bins for universities, consider:
Cost
Durability
Capacity
Ease of handling
Amount of recycled-content materials
Everyday usage patterns determine your capacity and maintenance needs. If your recycling bins overflow too quickly and your maintenance staff can't clean them out regularly enough, they'll overflow and pollute your campus with unattractive waste. Prevent that oversight by making sure you can accommodate everyone, and consider the number of people using the trash can:
How much foot traffic does each space get?
Is it a common gathering spot, or tucked away in a semi-private nook?
Will you need multiple recycle bins, or is one sufficient?
You also will need appropriate plastic liners and bags for the bins. As the bins are emptied, they will need new bags to collect more recyclables. If a single-stream collection system is being used, consider using clear bags so the contents can be easily identified once filled.
When you're building out a branded university recycling initiative, you want to make sure to use the proper recycling bins, liners, bags, and labels to make it easy to understand. Color coordination and the use of lids will make sure the right recyclables are going in the right bin.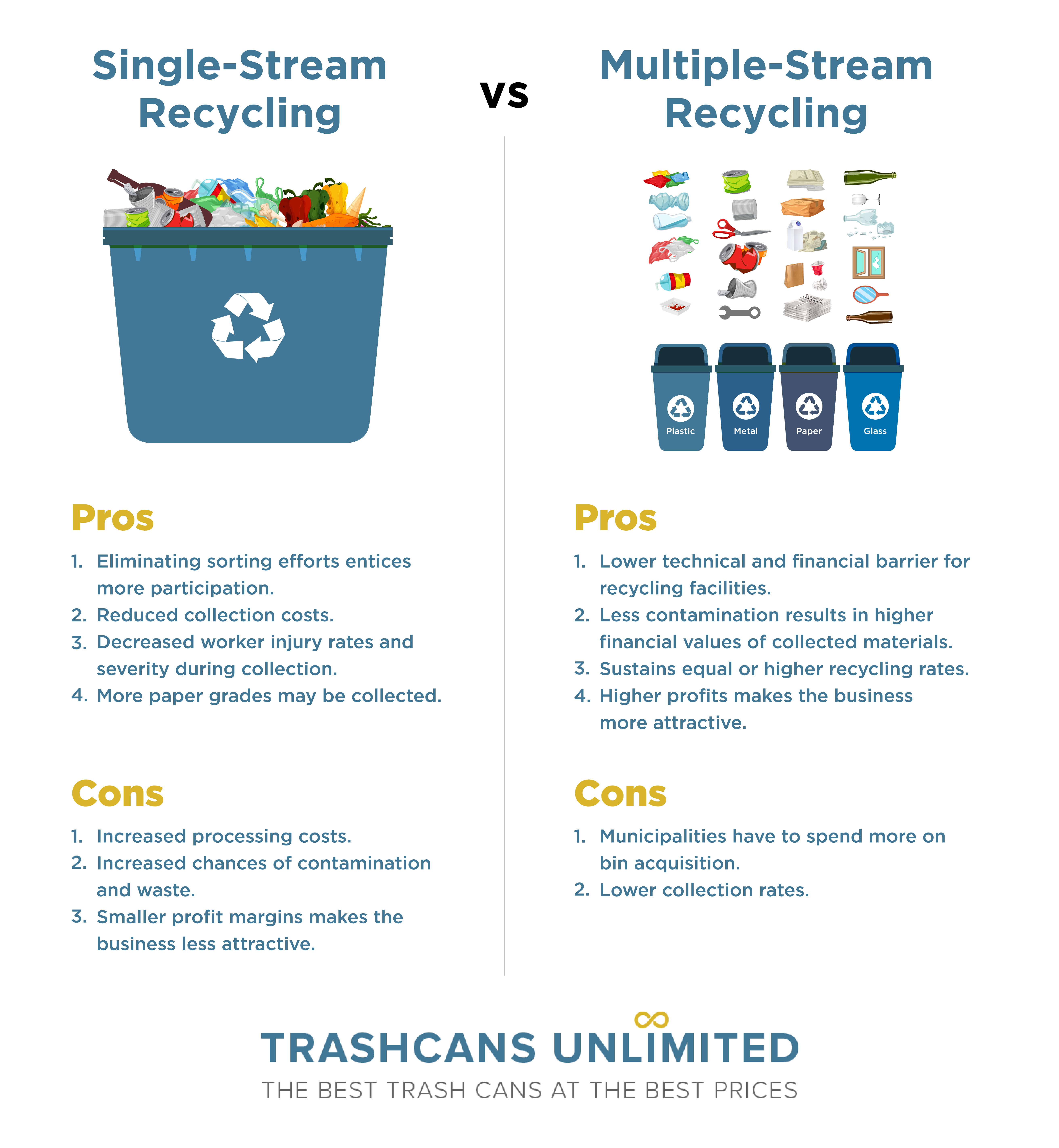 Implement Single-Stream Recycling
Many universities with successful recycling programs have adopted a single stream recycling approach in order to increase participation. Without the need for sorting, students and staff are much more likely to recycle. Many universities have seen their waste diversion rates double after adopting the single stream system.
Understanding the Waste Steam
Before you can begin to start modifying the waste stream at your university, you have to understand it. With a waste assessment, you can figure out what is being thrown away, and which types of things are being thrown away.
Many university areas will generate predominantly paper, bottles and cans, although this is not always the case. Through an audit, you'll be able to understand what areas need improvement, and where you can focus. Tasking an employee or department with determining what is being thrown away and in what volume is a powerful step in understanding the stream of waste in your organization.
Some of the materials that you should consider include but are not limited to:
Aluminum - Cans, scrap materials
Plastics - Bottles, boxes, packaging, bags
Glass - Bottles, jars
Food scraps - Around dining halls and elsewhere
Corrugated cardboard
Old newspaper
E-Waste - batteries, screens, computers, speakers, copiers
Education & Marketing to Increase Recycling At Universities
A solid marketing campaign that gets recycling on the mind is the way to go. Develop a marketing plan designed to reach as many stakeholders as possible. Since simple awareness plays a large role in recycling rates, successful recycling programs utilize good old fashion print collateral, email messaging, and social media campaigns.
Education is one of the best ways to encourage people to recycle. Use signs, displays, and social media or email announcements teach them:
Why they should recycle.
What they should recycle.
Where they can recycle.
How they can recycle.
Education and promotion are crucial to encourage public participation in recycling. Flyers, pamphlets, posters, newsletters, and other materials where bins are located encourage appropriate disposal and remind people to be mindful of what they're throwing away.
Dallas College in Texas promotes zero waste with an online Zero Waste Education Hub, and modeled Zero Waste Practices in Arts, Construction and Public Health. Towson University in Maryland hosts social media education and awareness campaigns focused on waste reduction and avoidance best practices, with an emphasis on food waste and wasted food.
There's many ways to incentivize recycling as well. One example is giving students the choice of size of garbage can they want to use at the beginning of a semester, and charging them more for using a larger bin. Students can be naturally competitive, take advantage of that and have a university recycling competition. Students can compete with each other to collect and recycle the most and win prizes. It is also helpful to participate in nationwide events such as Recyclemania and Earth Day.
Set SMART University Recycling Goals
The first step to implementing a successful campus recycling plan is to set some realistic goals.
Specific: Identify a specific area for improvement, such as paper recycling.
Measurable: Use a quantifiable indicator of progress for measurable goals, such as weight of paper recycled.
Achievable: Specify who will do it and how. For example, the Recycling Coordinator has a step by step guide of how to collect paper throughout the week, and recycle it at the end of the week.
Realistic: Determine what results can realistically be achieved with the available resources. For example, one person is able to take 10 lbs of paper to a recycling center once a week.
Time-bound: Specify the target date or duration when the results can be achieved, such as an end of year deadline, or duration of 6 months to see results.
While you may be tempted to shoot for net-zero waste your first year, this isn't likely to happen. Try to improve steadily, year-over-year, by increments of 5-15%. Creating an effective recycling program takes time, commitment, and often a significant monetary investment, but the benefits far outweigh the challenges your school will face.
Successful recycling programs cut operating costs and increase your school's positive image. In addition to these benefits, you are also helping to create a positive impact on public health, climate change, and fossil fuel consumption. Start and grow a recycling program at your university today.