There is currently a truck parking shortage. Due to a lack of proper truck parking, fatigued truck drivers are compelled to park in potentially dangerous spots, such as along the lane, in vacant lots, and on exit ramps. It should be a matter of national importance. Truck drivers should feel protected and safe and have a place to park their vehicles.
Keep reading to find out how you can design a truck and trailer parking lot to generate extra revenue.
Why Truck & Trailer Parking is Important
The trucking business is critical to the American economy. Truckers are relied upon by both large and small businesses to safely convey their goods across the country while keeping delivery times to a minimum. Without trucks, important assets can never get to where they need to be.
Truck parking is necessary because truckers require a safe place to stop for a break, a quick supper, sleep, or complete their logbooks. Truck parking must be available 24/7, because drivers are always moving commodities. Truck drivers require more available parking throughout the United States so that they may meet service rest requirements regardless of where they are on their trip.
They need parking that can suit the size of their enormous rigs and be well-lit and secure. These lots must be large enough to accommodate the length and width of these vehicles and their wide turning radius so that trucks can turn and park without causing an accident.
Sleep deprivation is a chronic problem truck drivers face. With the pressure to get their freight to its destination as quickly as possible, drivers often skip rest breaks. This not only affects the driver physically and mentally. Mental fogginess, poor judgment, and forgetfulness are all side effects that can make drivers more prone to accidents.
The inability to find truck parking costs truck drivers 56 minutes of wasted time per day and $4,600 in lost compensation. As a result, truck parking is not just a safety and compliance issue but also an economic one. as over 68% of all freight is moved on U.S. highways. It can also increase shipping delays and shortages at stores.
How to Design a Truck Parking Lot
Designing parking lots for buses and trucks must consider space efficiency. Consider the size, dimensions, and angles of the parking lot.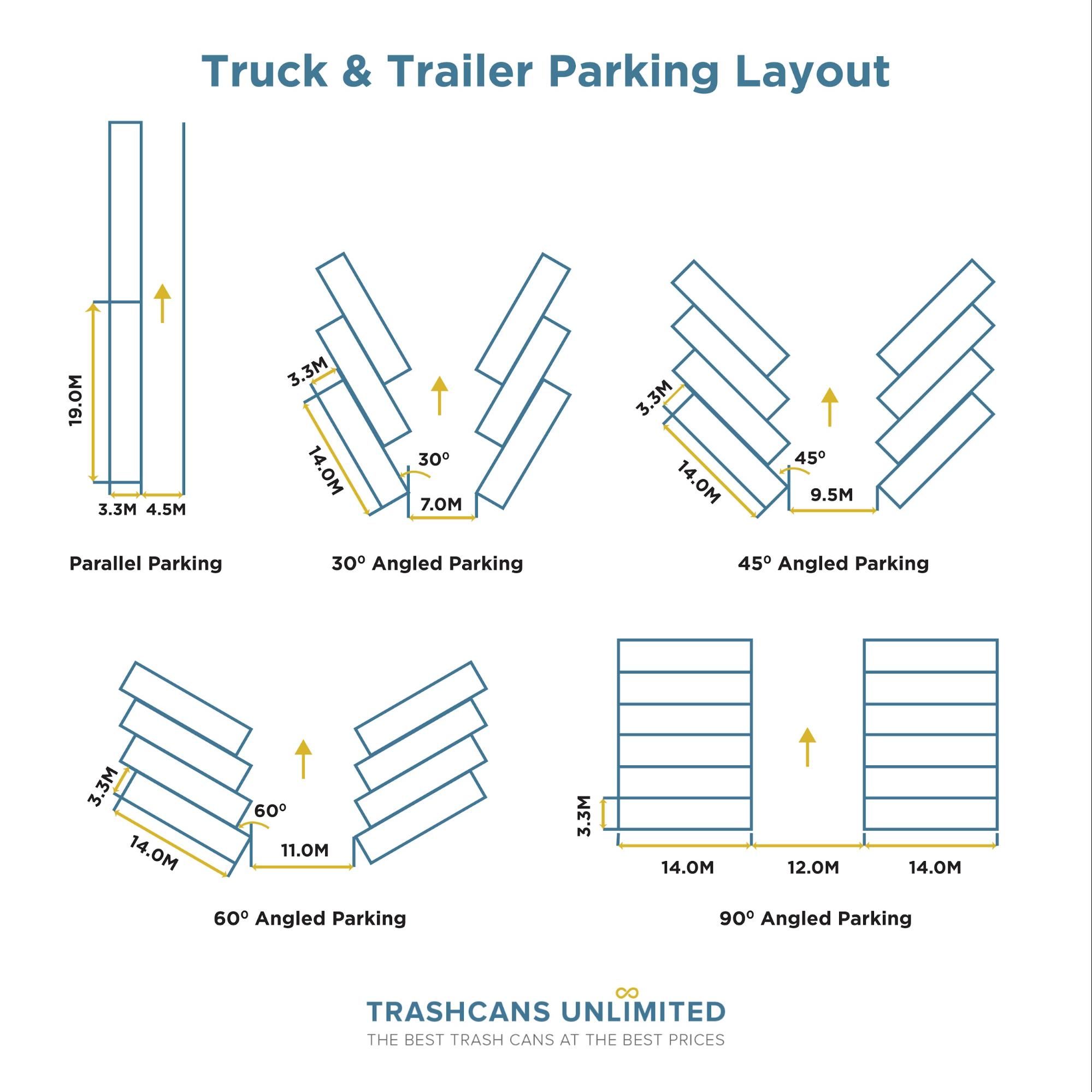 Dimensions & Layout of a Truck Parking Lot
The size of each space has an impact on how many can fit in your parking plan. Trying to squeeze too many semi-trucks into one storage and parking area can result in accidents or drivers becoming blocked in.
Parking spots for trucks need to be at least 15 feet wide and 30-40 feet long.
The typical semi-trailer will need a 55 x 14 feet space for storage and the truck and trailers will need a 75x14 feet space for storage.
Drivers also want a place to leave their cars if they are on the road.
These drivers need about 100 feet to back into a space so the middle area must remain clear. The outer turning radius necessary for a medium-sized semi truck making a 180 degree turn should be at least 40 feet.
The following standards are recommended when designing parking facilities for trucks:
Parking space length- 50 feet
Parking space width - 9 feet
Outside turning radii - 60 feet
Vertical clearance - 14 feet
Backing and maneuvering area - 50 feet
Loading dock width - 10 feet
Loading dock height - 4 feet
Loading dock area - 2x area of truck bed
What is the Maximum Number of Trailers I can Park per Acre?
The first item to remember when calculating the storage capacity of land depends on the configuration. A 30' x 1452' -acre storage capacity will drastically differ from a 209' x 209' acre. Estimates typically vary from 34-40 trailers per acre with no truck cab, assuming the acre is useful in shape, meaning closer to a square than a rectangle.
The second aspect to mention is that as the total area of acreage increases, so does the number of trailers that may be kept per acre. For example, an 8-acre land piece can be used to build a layout with 394 trailer parking spots, resulting in 49 trailers per acre, including 23 double-stacked trailer parking spots.
How to Design Truck Parking Layout
The main goal should be to maximize parking capacity and convenience while efficiently using the available area. The effectiveness of space use and the ease with which vehicles may navigate your lot depends on how you set up your parking spot arrangements.
What is the Best Parking Layout?
The three primary parking layouts are parallel, perpendicular (90 degrees), and at an angle to the aisle (30, 45, or 60 degrees). Angled spaces allow you to fit more drivers, but you will want at least 2 gates or roadways on the property as well.
Parallel parking spaces are helpful and space-efficient in narrow, linear parking lots. However, many drivers find it challenging to navigate into parallel spaces, which can clog up traffic.
Parking spaces with a 30° angle are those where cars are parked with respect to the direction of the road. This kind of parking spot provides better maneuverability and fewer delays. It allows you to fit many things into small areas.
Compared to parallel parking and 30° parking, 45° parking spaces may hold more trucks. It is simpler to maneuver because it doesn't call for fast turns from parked cars.
Parking spaces at 60 degrees are typically in the midway of straight and 45- degree parking spaces. Its benefit is that it takes up less space and makes it easy for trucks to enter and exit, with the vehicles facing at an angle of 60 degrees to the road.
90-degree parking spaces, or perpendicular parking, are typically the most space-efficient type of parking, but they significantly increase the risk of collisions and accidents.
How to Scout Potential Truck Parking Facilities
Finding a suitable site for a truck parking facility can be difficult, especially with city ordinances, zoning rules, and budgetary budgets. When looking for a semi yard you want to gauge the following criteria:
Proximity to Highways
Competition within 20 miles
Distance from Industrial Area
Price per square foot
Here are some pointers on how to locate these development sites:
First, familiarize yourself with the numerous zone classifications in the city's many neighborhoods. Another critical step is to learn the abbreviations for each zone categorization.
Second, be aware of the steps involved in submitting and receiving approval for a rezoning request. Many commercial development and business use zones may be feasible for conversion to an industrial zone, which is why rezoning is necessary. As a result, educate yourself on what it may take to effectively rezone a related location to one that allows for creating a truck parking lot, such as an industrial zone.
Avoid residentially zoned and some agriculturally zoned regions since they will have a lesser likelihood of rezoning success.
Finally, use your area's most well-known real estate website to look for development prospects. Set up notifications to get notified when a property that meets your criteria for a truck parking business becomes available. Also, most websites provide a map search option to help you quickly find houses. Don't forget to consider nearby cities and townships when scouting truck terminals.
6 Considerations When Designing a Truck Parking Lot
When considering potential significant loads from these vehicles, pavement thickness should be a priority. These more powerful vehicles usually have dedicated parking spaces and travel-specific paths throughout a standard parking lot.
1. Parking Lot Pavement Thickness
The pavement thickness is determined by the facility's anticipated volume and kind of traffic, and the soils' capacity to handle the load. Special truck lanes are occasionally needed to speed up traffic to loading zones, waste disposal locations, and equipment places. It is recommended to enhance the design thicknesses for these lanes or pavement areas.
Heavily-Loaded Areas
To avoid pavement collapse brought on by the weight and dynamic loads, the pavement for entrances, frontage roads, trash dumpster locations, delivery truck parking, and the approach areas to these spaces must be thickened. To handle this unique type of pavement loading, these regions should be built with full-depth asphalt. Severe pavement failure could occur if this reinforcement is not provided.
2. Truck Parking Signage & Markings
Designing, building, and implementing practical applications while driving on the road all need the use of pavement markings and signs. They assist drivers in determining what behaviors are legal on residential and commercial roadways, driveways, parking lots, and highways. They provide direction and eliminate confusion when navigating, therefore helping prevent and reduce accidents, injuries, and damages.
3. Amenities for Truck Drivers
If your yard is going to be used for overnight parking, you will need more amenities compared to a semi-yard built for long term semi-truck and trailer storage.
24/7 Access
Security fences or security cameras
Fuel and on-site maintenance shop
Lights
Showers
Food
Restrooms
4.Accessible Parking
When calculating the number of parking spots per acre, it's crucial to know the municipal standards for handicapped parking, which takes up more space than a standard parking place. Other parking spots, such as those for oversized vehicles such as buses, trucks with trailers, and recreational vehicles (RVs), may restrict parking spaces within an acre lot.
Accessible parking spaces are not required in parking facilities used solely for trucks, buses, delivery vehicles, vehicular impounds, or law enforcement vehicles. If such parking lots are open to the public (for example, for the return of impounded cars), a passenger loading zone that is easily accessible must be provided.
How many parking spots for the disabled are required?
The lot's total number of parking spots determines the minimum number of accessible parking spaces needed. Additionally, a minimum of one accessible parking space out of every six must be "van-accessible." For instance: Eight accessible spaces are required in a parking lot with 400 total spaces, and two of the eight spaces must be van-accessible.
5. Why is there a Truck Parking Shortage?
There are only a few sites where trucks can be parked. There aren't enough truck parking spaces to accommodate all trucks on the road. The following are the main reasons for the lack of truck parking, according to a study by the American Transportation Research Institute (ATRI):
Condemned property, which prevents trucks from using potential parking lots.
The number of truck drivers and heavy rigs on the road is increasing.
The inability of nations to work together to provide a holistic strategy for parking.
The land cost and local zoning regulations make creating new truck parking facilities impractical.
There is little governmental spending on public parking, especially given the closure of hundreds of rest spots across the country.
Freight fluctuations during the year.
The unpredictable delivery schedules of trucking businesses and drivers make it difficult to predict when truck parking is required.
Regulations for truck drivers, such as the new electronic logging device mandate and modifications to the hours of service restrictions, are being implemented.
Trucks are forbidden from entering and parking in residential areas.
Access to public parking is restricted due to zoning issues.
It's worth repeating that the main reason for the absence of truck parking is a lack of funding to cover the costs. Money is required to construct new parking lots and maintain existing ones. Truck parking lots have more significant maintenance concerns than conventional passenger car parking lots because trucks often weigh 80,000 pounds, making upkeep more expensive.
6. The Importance of Regular Maintenance
Cleanliness and waste management is an important factor for parking lots. A dirty, litterered, graffitied parking lot can deter drivers and make a bad impression. Keep your truck and trailer parking lot clean and attractive with durable concrete trash cans or decorative designer trash cans from TrashCans Unlimited. Start browsing our selection of high quality trash cans, or contact us today with questions!