We all have a love-hate relationship with trash cans. We need them to dispose of trash, but they tend to be a bit of an eyesore. Fortunately, there are strategic ways to hide trash cans so that they are still convenient to use, but absent from plain view. Here are some creative ways to hide your trash cans both indoors and out:
The Keys to Hiding A Trash Can Indoors
Pull-out Cabinet Drawer
With a pull-out cabinet drawer, you can easily stow your trash can behind your cabinet door. This placement will not interrupt the room space, but still provide easy access to the trash can. Although rooms like the kitchen come to mind first when the pull-out cabinet drawer method is mentioned, it will work for any room that has cabinets including the office, laundry room, bedroom, and more. There are lots of options for pull-out drawers to suit your cabinet's needs.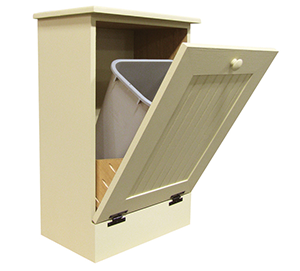 Tilt Container
A tilt container is similar to a pull-out trash can, except that the cabinet or drawer tilts instead of swinging open. A tilt container is easily pulled open with a handle or knob to provide access to your trashcan. They can be placed almost anywhere, including along walls and furniture.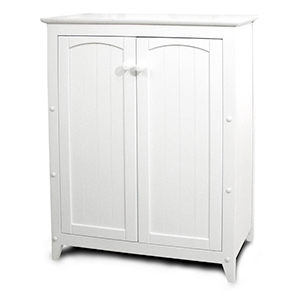 (source: cosmoplast.biz)
Double-Use Storage Cabinet
This is another aesthetically pleasing way to hide your trash can from sight while adding even more functionality. A double-use storage cabinet can be placed anywhere in a home or office. It can double as a counter surface or even a bench. Typically, these types of storage solutions are made of wood and blend in with the rest of your interior design as a nice looking piece of furniture.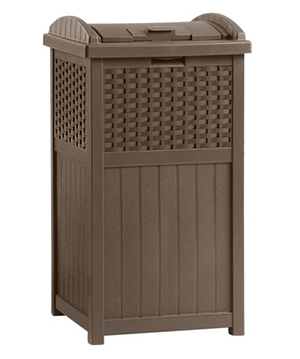 Large Baskets
If you need constant quick access to your trash can, hiding options that completely cover the trashcan may not work for you. In this case, you should consider a large basket. These can go anywhere and fit in with any interior design. Consider a wicker hamper that blocks the sight of your trash can without hindering access in any way. Simply drop your trash can into the basket and you are good to go.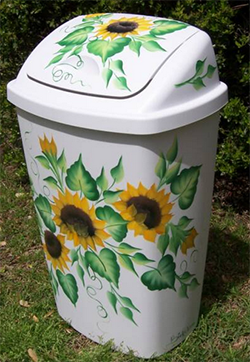 (source: bicklanecreations.com)
Decorate With Paint & Custom Designs
If you want maximum mobility and accessibility for your trashcan, you may be hesitant to place it into any type of container. Fortunately, you still have an option. You can decorate your trashcan with paint and custom designs. Use matching paint that will allow your trashcan to blend in with your interior decor. You can even use stencil and get creative to transform your trash can into a work of art.
Hiding A Trash Can Outdoors


(source: mgc-old.zurka.com)
Trees & Shrubs
A tree or shrub can serve as a natural screen that obscures people's view of a trash can in an outdoor environment. This is especially true for trees, which typically grow between 10 and 50 feet tall. Because trees are slim and shrubs are relatively short, you will still be able to access your trashcan with ease.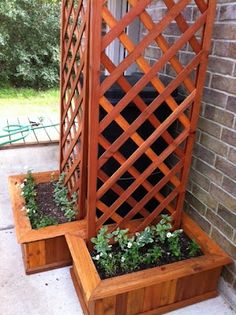 (source: pinterest)
Lattice or Trellis
A decorative barrier will both enhance your outdoor space and hide your trash can from sight.
These barriers are easy to assemble and you can use any pattern that you like. Choose a height and width for your lattice, fencing, or trellis so you can still retain easy access to your hidden trash can. Spruce up the look with ivy, vines, and perennials to really camouflage your trash can.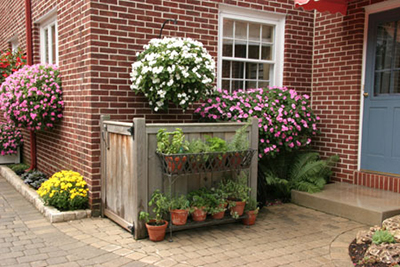 (source: stanolandscaping.com)
Fencing or Wood Planks
In addition to premade lattice or fencing options, you can also create and install your man-made barrier yourself. You can do this by assembling fencing or wooden planks in any way you prefer. No matter how your barrier is constructed, you can always customize it with a new coat of paint.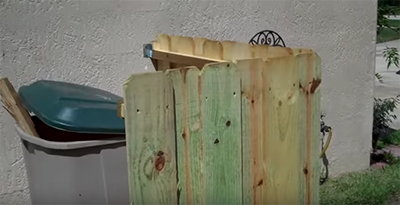 Outdoor Storage Container or Enclosure
A storage enclosure will allow you to make your trashcan neatly blend into the design of your outdoor space. You can build one yourself with brick, stone, cement, wood, or other materials. In addition to an attractive new trash can enclosure, you also get a fun DIY project.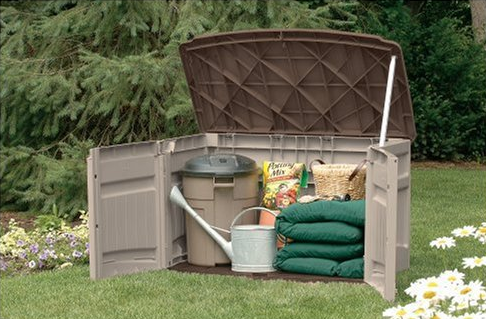 Outdoor Storage Shed
If you produce a lot of trash, then a few hidden trash cans may not be enough. A nice looking trash can shed can give you even more space for additional trash cans. You can purchase a pre-made shed or build your own with wood and common tools. Be sure to add lids and doors for easy access.
Don't Let Your Trash Can Be An Eyesore
Trash cans can be a bit unsightly, but they don't have to be an eyesore. Use creative hiding strategies to prevent trash cans from interfering with your harmony of your indoor or outdoor space. If all else fails, consider purchasing new, high-quality, designer trash cans!