Most college stadiums have a seating capacity of over 50,000. This translates to a huge amount of waste produced in a single football game. According to the EPA, college football games are estimated to produce between 50 to 100 tons of waste. As such, it is important that stadiums make sustainable initiatives to manage their waste while trying to minimize their carbon footprint. Find out which college football stadiums are the largest and how they invest in waste reduction efforts.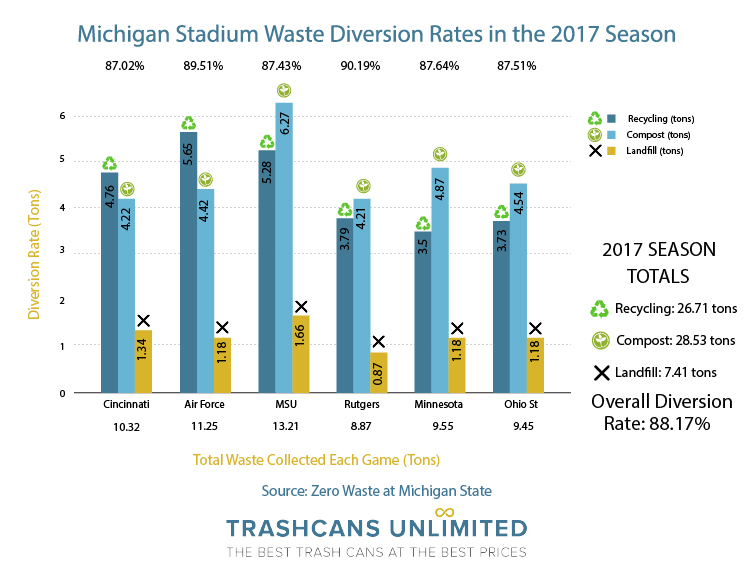 1. Michigan Stadium (Ann Arbor, Michigan) - 107,601
Built in 1927, this is the largest football stadium in the U.S and the third largest in the world. Michigan stadium, also called the "Big House," is located at the University of Michigan in Ann Arbor, Michigan. It has hosted crowds in excess of 115,000, exceeding its official maximum capacity. Its large seating capacity also means more waste on game days.
As part of the waste management efforts, there is signage in the stadium suites as well as throughout the concourse that directs fans on where to put their waste. Additionally, almost all food and beverage containers inside the stadium are compostable. On Sunday mornings after every game, a cleanup crew goes into the stadium to sort waste before it is sent off to compost centers, landfills, or recycling plants.
2. Penn State Beaver Stadium (University Park, Pennsylvania) - 106,572
Spread out on 110 acres, the Beaver Stadium is the second largest stadium in the U.S. To facilitate their waste management, there are 290 wheeled recycling carts placed throughout the parking lots to collect recyclables and 42 dumpsters for collecting trash. In areas where dumpsters are not available, there are A-frames totaling to 30 that dispense blue recycling bags. In every game, volunteers hand out almost 2000 recycling bags while an additional 2800 recycling bags and an equal number of trash bags are collected at the dumpsters.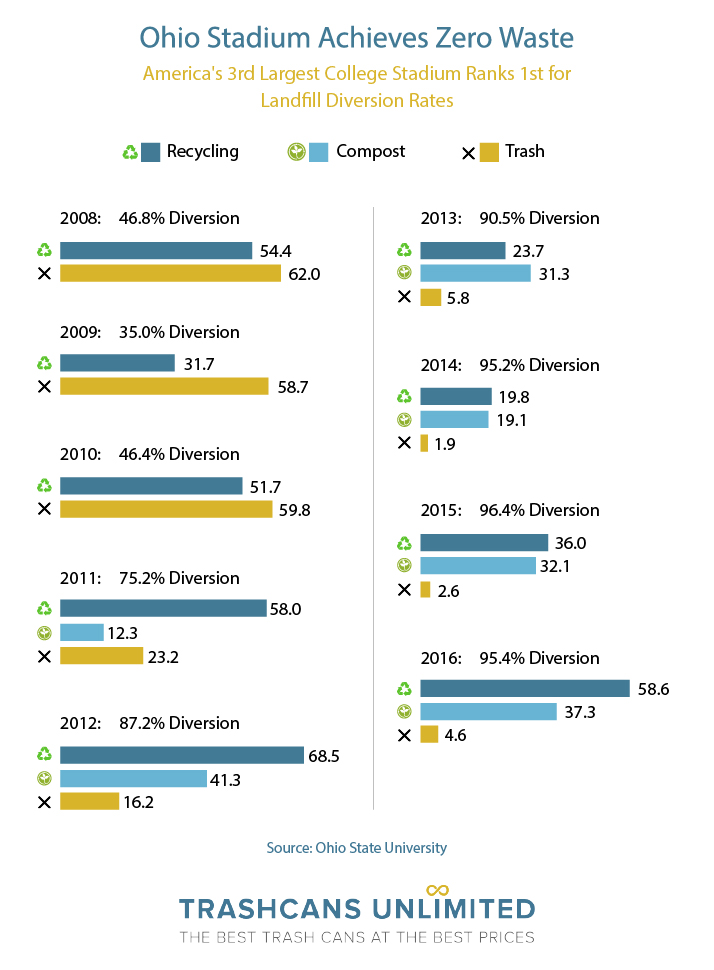 3. Ohio State Stadium (Columbus, Ohio) - 102,780
This was the first horse-shoe shaped double-deck stadium in the U.S. Its construction started in 1921 and was completed by the next year. The stadium has consistently strived to maintain a zero waste status by diverting at least 90% of its waste to recycling, repurposing and composting. Instead of outdoor garbage cans, the stadium uses compost or recycling containers. Vendors are also encouraged to offer green options that are compliant with recycling and composting to reduce the amount of trash from every game.
4. Texas A&M Kyle Field (College Station, Texas) - 102,733
At Kyle Field, you will find 200 recycling receptacles placed inside and at all entrances. Currently, the stadium's waste diversion rate is at around 66%. This is attributed to waste management efforts like recycling and composting. Additionally, only compostable materials are used and sold within the stadium to reduce the amount of trash that ends up in landfills after every game.
5. Tennessee Neyland Stadium (Knoxville, Tennessee) - 102,455
The stadium has record attendance of 109,061 and is most popular for hosting the Billy Graham Crusade back in 1970 with President Richard Nixon as the guest speaker. To cut down on waste being sent to the landfills, the stadium participates in the program Zero Waste Game Days. To facilitate the efforts of the program, there is a team of Waste Warriors in every home football game that helps with collecting recyclables at tailgates, monitoring bins outside the stadium and directing fans on how to dispose of different kinds of wastes.
6. LSU Tiger Stadium (Baton Rouge, Louisiana.) - 102,321
LSU was awarded the Keep Louisiana Beautiful grant to intensify recycling efforts at the Tiger Stadium on game days. The grant covered the cost of acquiring 1000 stadium recycling bins which were put throughout the stadium and in other high traffic areas. Additionally, there are always volunteers handing out recycling bags to tailgaters to help in waste collection. Their waste diversion rate is currently at 43%.
7. Alabama Bryant-Denny Stadium (Tuscaloosa, Alabama) - 101,821
The waste management efforts at Alabama Bryant-Denny Stadium are very disappointing. The stadium is recorded to have a diversion rate of only 4.7%, meaning little is being done towards reducing waste from the games ending up in landfills. Although there are disposal cans throughout the stadium and tailgaters get recycling bags, there is still more that can be done to promote sustainable game days.
8. Texas Darrell K Royal-Texas Memorial Stadium (Austin, Texas) - 100,119
The stadium's sustainability efforts are aligned with The University of Texas' zero waste goals. To attain zero waste status, the stadium has to divert at least 90% of its waste to either composting or recycling. The morning after each game, volunteer students referred to as the Sustainability Sort Squad gather to help separate trash into recyclables and compostable. There is also another volunteer group, the Sustainability Spirit Squad, that educates fans on the importance of responsible waste disposal.
In addition to these efforts, the DKR-Texas Memorial Stadium also manages to feed the hungry by donating over 3900 pounds of food. The food is from untouched meals that are collected all over the stadium and instead of being discarded, it is given to local families in need.
9. Georgia Sanford Stadium (Athens, Georgia) - 92,746
The Sanford Stadium has a diversion rate of 38%. It has invested in 1,200 receptacles positioned throughout the campus and stadium and in addition uses parking lot attendants and volunteers to carry around trash and recycling bags that fans can use on game days. Items like cans, glass and plastic bottles are collected and recycled to reduce the amount of waste sent to landfills.
10. UCLA Rose Bowl (Pasadena, California) - 90,888
Like many other football college stadiums, UCLA Rose Bowl recycles and composts waste in an attempt to reduce the amount of trash that goes to the landfills. As per the University's strategy, the stadium discourages single-use items and encourages repurposing.
11. Nebraska Memorial Stadium (Lincoln, Nebraska) - 90,000
UNL Athletics and UNL Waste Management Services help recycle waste from the inside and outside of the Nebraska Memorial stadium. The efforts from both organizations helped the stadium recycle more than 70% of their waste. There is also the Go Green for Big Red program that educates tailgaters about sustainable practices to reduce waste. The stadium has managed to score a waste diversion rate of 53%.
12. Florida Ben Hill Griffin Stadium (Gainesville, Florida) - 88,548
Similar to the University of Florida's entire campus, the Ben Hill Griffin Stadium exhibits sustainability. However there is a unique attribute in its strategy towards a zero-waste stadium. The stadium has been enforcing green initiatives inside the stadium and around it since 2006. There are several waste cans in the stadium with each being clearly labeled on what kind of trash goes into it. Later on the trash is sorted, recycled or composted.
13. Auburn Jordan-Hare Stadium (Auburn, Alabama) - 87,451
The stadium encourages recycling at the tailgating areas and in the stadium too. There are volunteers that help pass out trash and recycling bags for tailgaters and fans. In 2013, the Auburn Stadium managed to recycle more than 40 tons of waste.
14. Gaylord Family Oklahoma Memorial Stadium (Norman, Oklahoma) - 86,112
The environmentalist group Our Earth from the University of Oklahoma founded the Game Day Recycling Program to help manage waste from the stadium. During football games, the volunteers of the program give out recycling bags to fans to help in recycling efforts.
15. Clemson Memorial Stadium (Clemson, South Carolina) - 81,500
Most of the sustainable efforts by the stadium focus on recycling waste. With the help of volunteers, fans are handed recycling bags before the games and these are later collected and sorted. Clemson is also looking for other sustainable solutions like making the tailgating tradition more-earth friendly by using a bicycle instead of a car.
16. Wisconsin Camp Randall Stadium (Madison, Wisconsin) - 80,321
As of 2014, the Camp Randall Stadium was considered a zero-waste stadium. They have a robust program that includes recycling of all food and beverage containers. The stadium also has a compost waste stream and educates fans about the importance of recycling and green waste management solutions.
17. Florida State Doak Campbell Stadium (Tallahassee, Florida) - 79,560
Through the Garnet & Gold Goes Green Recycling Program, the stadium is able to reduce the amount of beverage containers from their waste. During the 2013 FSU football season, the program collected 40.14 tons of recyclable material.
18. Southern Cal. Los Angeles Memorial Coliseum (Los Angeles, California) - 78,467
Through the Tailgate Waste Diversion Program, the stadium is able to encourage sustainable tailgating and also promote zero-waste practices at the stadium. Before the football games start tailgaters are educated on the importance of recycling and composting too.
19. Notre Dame Stadium (South Bend, Indiana) - 77,622
In every game, volunteers hand out recycling bags to fans and help educate them on the subject of recycling. The Game Day Recycling program helps run most of the efforts put towards waste management and recycling at the stadium.
20. South Carolina Williams-Brice Stadium (Columbia, South Carolina) - 77,559
With the help of the university, there are recycling bins deployed throughout the stadium and tailgating area. Students from the university help with both pre- and post-games waste management. They will hand out recycling bags and collect them after the games.
21. Arkansas Donald W. Reynolds Razorback Stadium (Fayetteville, Arkansas) - 76,000
Razorback Stadium makes its contribution to the environment by recycling and making fans aware of its value. Volunteers usually help to clean up the stadium and sort trash for recycling.
22. Michigan State Spartan Stadium (East Lansing, Michigan) - 75,05
The Spartan stadium has more than 75 recycling containers throughout the stadium concourse to accept recyclable trash like boxboard, paper and plastics. To support its move towards zero-waste is the Be Spartan Green Team where volunteers help manage waste stations and divert recyclable items from ending up in the landfills.
23. Washington Husky Stadium (Seattle, Washington) - 70,083
University of Washington is committed to sustainability and it is only right that the Husky stadium compliments those efforts through reducing game day waste. In 2013, the U.S Green Building Council, the body that administers the Leadership in Energy and Environmental design program, certified the Husky Stadium as LEED silver for its design and sustainable operating practices. During the renovation of the stadium in 2013, compactors for recycling and compost were added at the loading dock and almost all concession containers are compostable or recyclable.
24. Iowa Kinnick Stadium (Iowa City, Iowa) - 69,250
After the games, volunteers from the community help with the clean-up exercise at Kinnick Stadium. As they clean, they go along collecting recyclable items like water and soda bottles, plastic food plates, cardboard, printed programs and paper trays.
25. Pittsburgh Acrisure Stadium (Pittsburgh, Pennsylvania) - 68,400
Besides working on waste management, the stadium implements other efforts to reduce their carbon footprint such as using renewable energy sources and reducing water and electricity consumption. The goal is for the stadium to be 100% carbon neutral by 2025. For recyclables and waste, the stadium is working to completely eliminate use of plastics by 2024 and attain a diversion rate of more than 97%.
TrashCans Unlimited For Stadium Waste Management
Football is a dear sport for many Americans and this means that every football season, stadiums around the country are handling tons of garbage and waste, which will often end up in landfills if no sustainable measures are put into place. Today, stadiums are being recognized for their waste optimization programs. For instance, in 2017, the Super Bowl LII worked together with Rush2Reccyle and managed to divert more than 90% of the game day waste from landfills. Stadiums and arenas therefore have an opportunity to positively impact the environment by reducing waste through composting and recycling.
Get the right stadium recycling bins and stadium trash cans from TrashCans Unlimited, or get in touch with questions.