Commercial trash cans don't get nearly as much attention as the artwork, architecture, and furniture choices that make businesses unique. However, dirty or mismatched trash cans can ruin even the most upscale spaces. On the other hand, the right models make businesses safer, cleaner, and more inviting. If you need a trash can for your business, we encourage you to take advantage of the commercial benefits of stainless steel.
Advantages of Stainless Steel
Commercial trash cans serve thousands of different purposes, but stainless steel is almost always the best candidate for the job.
Maintenance & Hygiene
Stainless steel will withstand industrial wear and tear, so commercial use doesn't ruin it over time. This heavy duty metal resists fingerprints, scratches, and stains without the need for constant maintenance. It's also pore-less, so it won't trap food particles and bacteria.
Style & Character
Stainless steel trash cans keep trash out of sight while adding a professional, high-quality touch to indoor or outdoor spaces. Custom colors, finishes, shapes, and branding options make it easy to complement your décor and make your space look more professional.
Durability & Value
Heavy-gauge stainless steel trash cans are also durable enough to withstand fire, water, puncturing, and extreme temperatures. Because stainless steel lasts longer than plastic, vinyl, or lightweight metal alternatives, your investment will pay off for years to come.
The 13 Best Stainless Steel Trash Cans
Now that you've settled on stainless steel, it's time to figure out which shape, size, features, and style will best suit your space.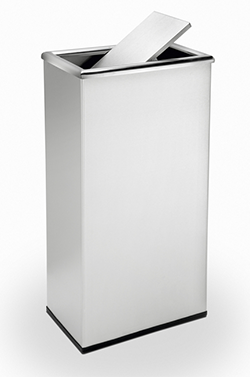 1. Slender Rectangular Stainless Steel Trash Can
Clean lines and a compact, space-saving design make this 13-gallon trash can perfect for high-end lobbies, break rooms, or bathrooms with stainless steel fixtures, and other small but upscale spaces. The no-fuss swivel top keeps hands clean and trash out of sight.
2. Nine Stars Oval Trash Can
This innovative trash can uses infrared technology to open automatically and close tightly three seconds later. The tight seal and automatic closure minimizes odors, so it's a great option for dining areas and medical settings where hygiene is especially important.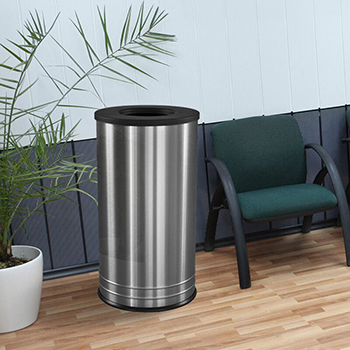 3. Excell 18-Gallon Flat Top Stainless Steel Trash Can
The classic cylinder never goes out of style, especially when you add matching cigarette urns and recycling receptacles. A convenient 8-inch opening accommodates bulky trash and makes it easy to dump out food containers without making a big mess.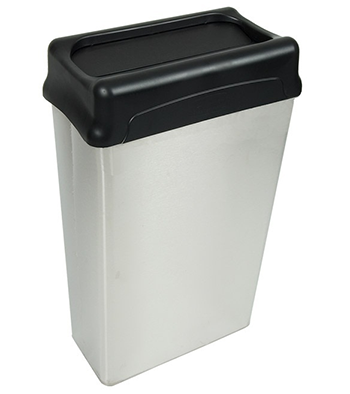 4. Witt Industries Skinny Slender Stainless Steel Trash Can
Instead of taking up space with a big, round trash can, squeeze up this slender innovation into narrow spaces. Slightly rounded edges and an optional black lid make it a superior twist on the rectangular plastic classic.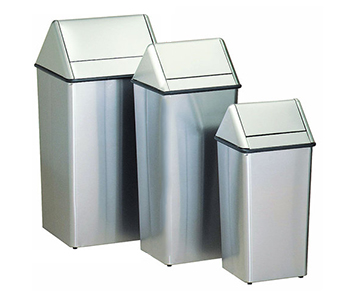 5. Witt Industries Waste Watchers Stainless Steel Swing Top Garbage Can
Collect up to 36 gallons of trash between cleanings in this puncture-proof, fireproof trash can, which features a convenient swing top to minimize messes.

6. Glaro Floor Standing Sanitizing Wipe Dispensers
Germs spread quickly when hundreds of people share the same space, especially if they have to go out of their way to wash their hands after throwing away their waste. This model helps prevents illness and contamination in grocery stores, cruise ships, and hotels.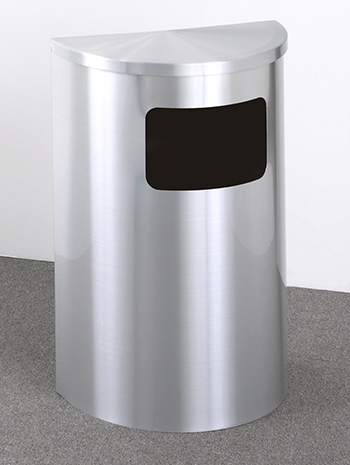 7. Glaro 18" Half Round Trash Can with Hinged Lid
Save space without losing the classic look of a tall, round trash can. Customize this galvanized steel fiber trash can with a silk-screened message, and choose from a variety of opening options.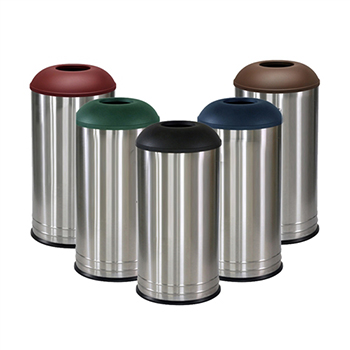 8. Excell Kaiser Stainless Steel Café Style Indoor Trash Can
This brushed stainless steel trash can is perfect for restaurants, cafes, and other food service businesses. The removal top makes it easier to empty and clean, and it comes in five colors.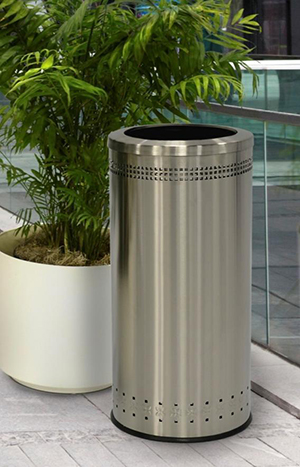 9. Commercial Zone 25 Gallon Stainless Steel Trash Can
This eco-friendly trash can is made from recycled steel and fits up to 25 gallons of trash, which is easy to remove thanks to a handle on its galvanized inner liner. Order yours with or without the lid.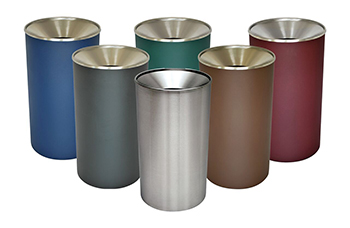 10. Excell Kaiser 33 Gallon Heavy Duty Indoor Trash Can
Prevent overflow and decrease the frequency of maintenance visits with this sleek, seamless trash can. The polished satin finish is available in five colors in addition to classic stainless steel.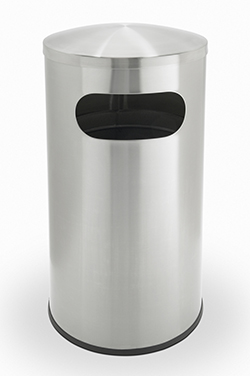 11. Commercial Zone 15 Gallon Allure Stainless Steel Garbage Can
Place this simple trash can near entryways, elevators, and other spaces with high foot traffic but infrequent staff supervision. The domed lid prevents trash from accumulating on top, and heavy gauge steel resists fire damage and corrosion.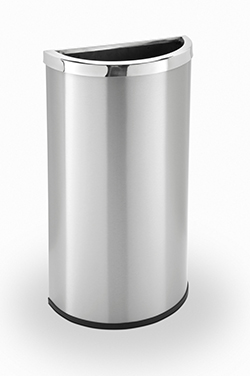 12. Commercial Zone 8-Gallon Half Round Stainless Steel Trash Can
This small but sleek trash can is perfect for small spaces with minimal waste, such as ATM vestibules and reception desks. A fireproof rubber base keeps this half-circle trash can in place.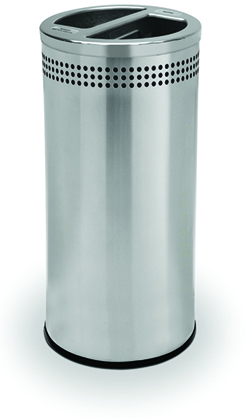 13. Commercial Zone 20-Gallon Stainless Steel Dual Recycling Trash Can
Protect the environment with this two-in-one receptacle, divided down the middle to accommodate both trash and recyclables. Three rings of perforated holes offer ventilation and make it easier to empty.
Stainless Steel Trash Cans For Your Business
Trash cans should improve the way your property looks, not interrupt foot traffic or clash with décor. Whether your trashcans will collect paper in a small office or decorate a huge hotel lobby, it's important to choose models that enhance your space and handle all your waste. Browse our extensive collection to find the perfect stainless steel trash can for your business.