Our goal with this piece is to basically walk a homeowner though the process of understanding what size trashcan they need / should have. (Basically doing choosing the right trash can size, but for outdoor trash cans) Also want to write around the graphic below since we'll make a similar one to this / the ones we did in that other piece.
Garbage cans make the world go round. Or at least, they keep trash where it needs to be--out of sight and out of mind--and that's important If you're moving into a new space, or are a first-time homeowner, you might have some outdoor areas to accommodate garbage cans.
So, what kind of cans and waste receptacles do you need for your outdoor areas?
If you're lucky, your waste management company will provide you with some garbage cans, but you might need to find some of your own.
Or, you might not be a homeowner, instead, you're being tasked with managing a large outdoor area that needs strategically placed garbage cans.
Whatever the case, we (trash)can take you through planning, purchasing, and designing your outdoor garbage can plan.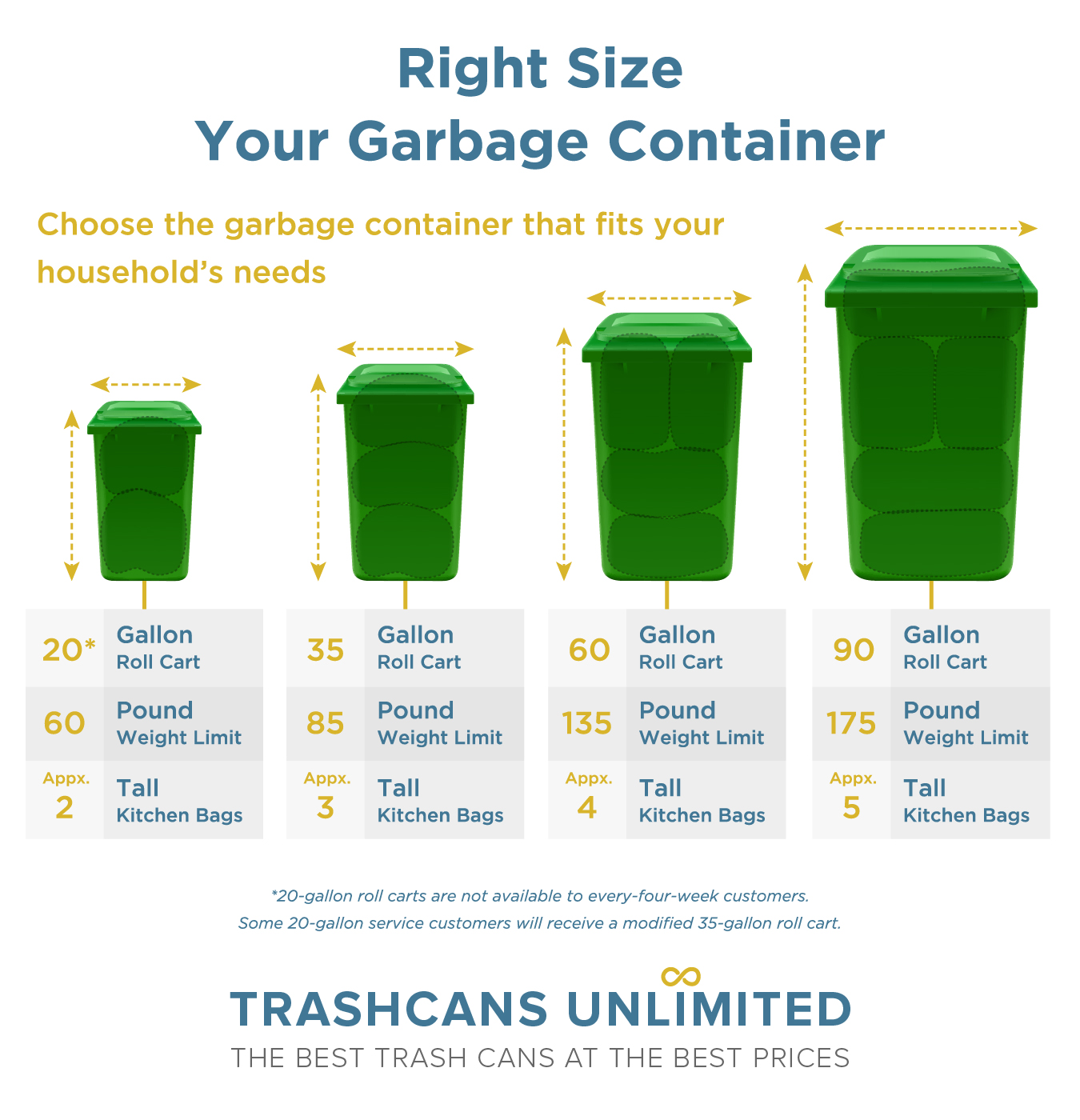 What are your needs?
Before you start getting trigger happy and buying a bunch of different garbage cans, you need to do a little bit of planning and research. So, ask yourself a few questions:
Where are they going to be positioned?
Are you going for convenience for people who need to throw away waste, or are you trying to be efficient for the people who will be emptying the can for disposal?
How much use are they going to see?
Picking a can for durability if it's going to be seeing constant use can be a good strategy, but depending on where the can will be, and the type of use/weathering it will see, can make a huge difference when selecting the right trash can.
How many cans am I going to need?
Determining how many garbage cans you're going to need Depends on how big of an area you're collecting waste from. A good rule of thumb is having one can for every 100 square yards (one can for every football field-sized area).
What size outdoor garbage can do I need?
Well that depends on your trash production. If you fill around 3 tall kitchen garbage bags a week, a 30 gallon can will work. If you produce more trash than that, you'll likely want to move into the 60 or 90 gallon range.
Generally speaking, outdoor rolling garbage cans come in four sizes:
20 gallon
35 gallon
60 gallon
90 gallon
Depending on how much garbage you're going to be throwing out, you want to pick accordingly. But, if you're looking for a stationary can, making sure to get one that has a quality liner and is up to the task of holding all the trash you need is critical. Try to plan accordingly and think about:
Foot traffic in the area.
How much will likely be thrown away in a given day.
Family Size
Family size is an important factor in figuring out how much trash is produced. A single person produces an average of nearly five pounds of garbage each day. On average, households with children produce more waste than households without children.
Recycling
Do you recycle? The EPA estimates that 75% of American waste is recyclable. Consider reducing the number or size of outdoor trash cans and investing in recycling cans. The city and other services for recycling pickup can be an additional cost, but it's worth it when considering the environmental impact.
Material Types
Next, you want to make sure you're getting a can made from the right materials for the climate and environment it's going to be in. Here's an overview of common materials for outdoor garbage cans:
Metal
Steel and aluminium cans have the advantage of being highly durable and very tough. It's really hard to damage one of these cans, though some can be vulnerable to the elements. No big deal though, just find the one that's got a weatherized coating!
Wood
Wood garbage cans can be very thematic and attractive in an outdoor space compared to other materials, and have the bonus of being durable and easily shaped to fit a variety of different liners.
Plastic
Plastic cans pack durability and lightness into a complete package, and thanks to the magic of injection molding, you can find them in hundreds of varieties!
Form, function, or both?
There is a wealth of garbage can options out there, and when you're trying to decide which ones to pick, some great ways to whittle down your choices is to decide what you're looking for. Do you want more attractive garbage cans, or durable ones? A mix of the two? Most people want that, so think about things like:
If you need a can with wheels for easy mobility.
The shape of the cans.
Whether or not you want a flap in the top.
How you're going to secure it in place.
Animal proofing
Animals rummaging through outdoor trash cans can be a problem in both urban and rural areas. If trash cans are going to be stored outside, it's smart to get a sturdy and secure can with a lid that seals tight.
Common questions when homeowners are shopping for outdoor trash cans
What is the standard outdoor garbage can size?
Though, outdoor garbage cans usually come in 20, 35, 60, and 90 gallon sizes, the most common and standard acceptable size is in the 30-35 gallon range.
How big are waste management trash cans?
Waste management companies issue garbage cans in 20, 35, 60, and 90 gallon sizes.
How big is a 32-gallon garbage can?
A 32-gallon garbage can come in a number of different sizes, but in general, most of them measure around 21.9 inches in diameter and 27.80 inches in height.
Get looking!
If you've reached this point, you know as much as you need to know about finding the right outdoor garbage can. If you're looking for a product to start browsing, Trashcans Unlimited has some of the best quality garbage cans around--and--we're always open! If you've got more questions or comments, go ahead and get in touch with us, we'll answer them best we can.