How and Where to Find the Right Metal Garbage Can
Believe it or not, metal trash cans come in many shapes, sizes, and varieties, and choosing the right one for your home or office is an important decision. You not only want the right look for your personal style, but you also want a metal garbage can that suits your needs. When considering a new garbage can, be sure to think about the right size and material for both the space and the intended level of use, what features you'll require, and, of course, the style of the can itself.
What type of metal should your garbage can be?
When shopping for garbage cans, both cost and style will factor into your choice, but the type of metal should as well. Stainless steel garbage cans, for example, are the most durable and aesthetically pleasing. A garbage can made out of stainless steel will resist stains, small dents, fingerprints, and other damage. It won't rust and will shine up nicely, so it can be placed in even the most obvious location. If you want a garbage can in the conference room that won't become a clunky eyesore, for example, a stainless steel garbage can with an automatic lid is a good choice.
Galvanized steel garbage cans are also a good option if you intend to keep your can outside or in a location where looks are not as important, such as a garage. A galvanized steel garbage can will dent a little more easily than a stainless steel one, but it will also be more convenient to move and empty as needed, due to its lighter weight. Galvanized steel cans also come in an especially wide range of sizes and styles, which makes the next part of your decision even easier.
What style of can do you need?
Metal garbage cans come in all shapes, sizes, and styles. No matter what type of can you're looking for, you'll be able to find an affordable option.
A slender, rectangular, 13-gallon stainless steel garbage can is the perfect choice for a break room, a classroom, or a conference room. This size can hold a lot of trash while still looking stylish. A swivel top lid, or one that lifts with a foot pedal, keeps hands clean.
A trash can with infrared technology is capable of opening and closing tightly on its own, perfect for maintaining a sanitary and tidy environment with a cutting-edge atmosphere.
A classic, cylinder-style metal garbage can matches easily with other items like cigarette urns or recycling cans. In a break room, for example, a stainless steel cylindrical garbage can coordinates nicely with a similarly styled stainless steel refrigerator or microwave.
What size metal garbage can do you need?
When selecting a metal garbage can for your home or office, it's essential to choose the right size. Too large, and the can will take over the room, or develop a rotting odor because it never seems full enough to empty. Too small, and the can will not only overflow with trash and need constant emptying, but it will give the room an unkempt and "trashy" look.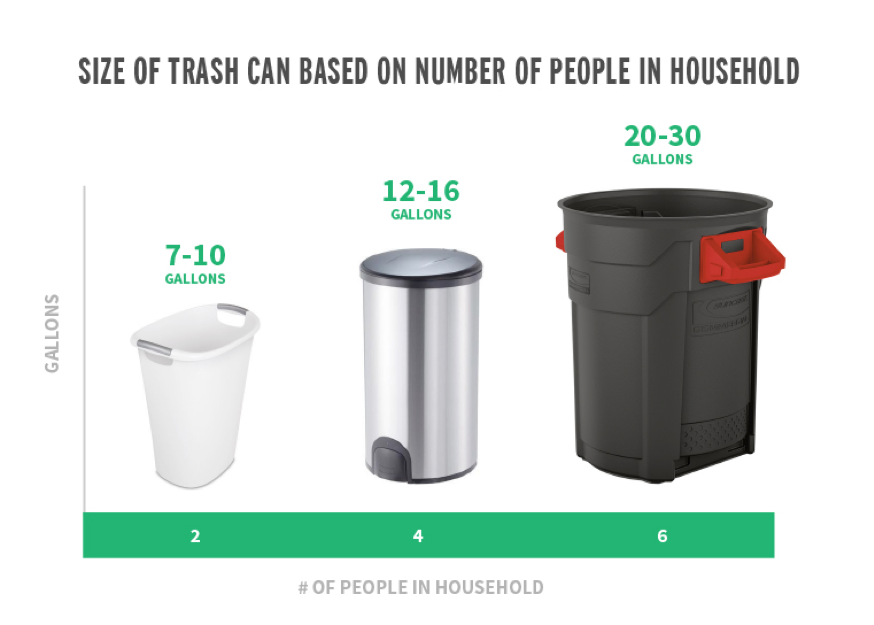 Consider the room and what type of trash is typically thrown away there when deciding what size metal garbage can to buy. A garbage can in the kitchen, for example, is going to see very different trash from a can in a bathroom or a garage. The food waste disposed of in a kitchen can will make odor a much more significant issue than it would be for a bathroom can that will mainly hold paper towels.
How often is the trash going to be emptied? This is a crucial question. In an office, there is most likely someone designated to take out the trash, but how often does that happen? If it's once a week, your break room will require a larger can than if it is emptied once a day. If that trash is going to an outside can, you will need to consider the size of that one too.
How much trash do you produce? This is another essential question. Think about how many people are in your home or office and how much trash they produce on average.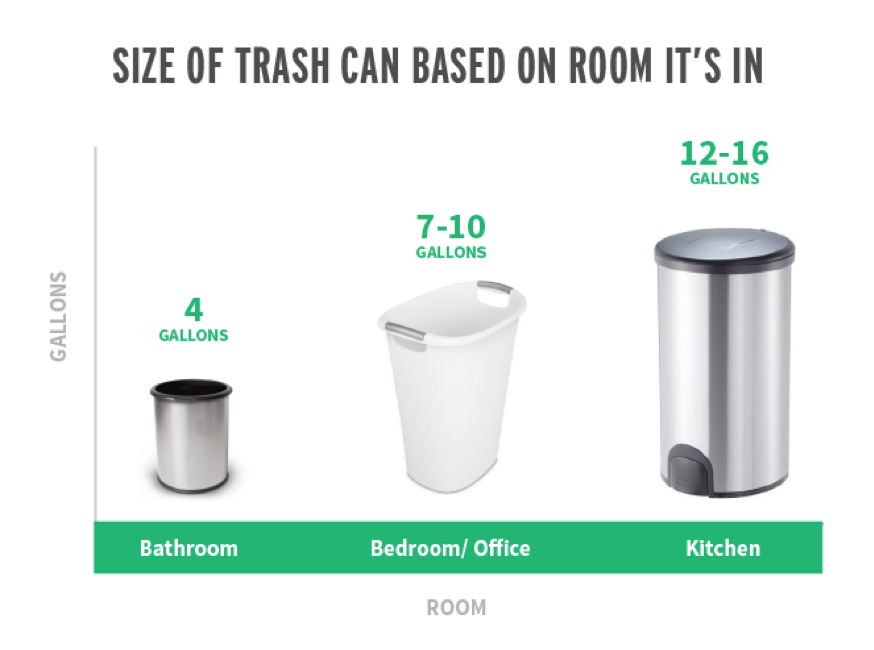 Are you throwing away a lot of paper? Are you throwing away a lot of food waste (like in a commercial kitchen)? Is there a lot of other trash produced by your office? Whatever the case is, make sure you take into account each person's typical trash output. Depending on the type of business you do, it might make sense to have one large, communal trash can, or for each individual to have a small one under his or her workstation.
The Importance of Good Garbage Cans
It seems like a lot of trouble to go to, doesn't it? Why should you care what type of metal garbage can you choose? You'll be surprised by the difference it makes. The type, placement, look, and upkeep of your garbage cans says a lot about your home or your business. Keep your garbage cans looking great by inspecting them occasionally and making sure they are clean — both inside and out. No one wants to be the business on the block with that lingering, unidentifiable smell.
Use a mild soap and water solution to keep your garbage cans clean. Using anything like a muriatic or bleach solution can cause corrosion and will contribute to your garbage cans looking unkempt. Make sure that a regular and full cleaning of all of your garbage cans is on your list of weekly maintenance duties, to keep up a professional appearance and ambiance for your business.
Look for your metal garbage cans at a trustworthy place like Trashcans Unlimited, or your own local store, where you can rely on friendly people who know about trash cans.