Amusement park safety planning is a huge subject, and no single blog post will be able to provide a comprehensive overview, but this post will attempt to make amusement park visitors, amusement park workers, and potential owners aware of some of the major points of safety and security surrounding the regulatory world of the amusement park.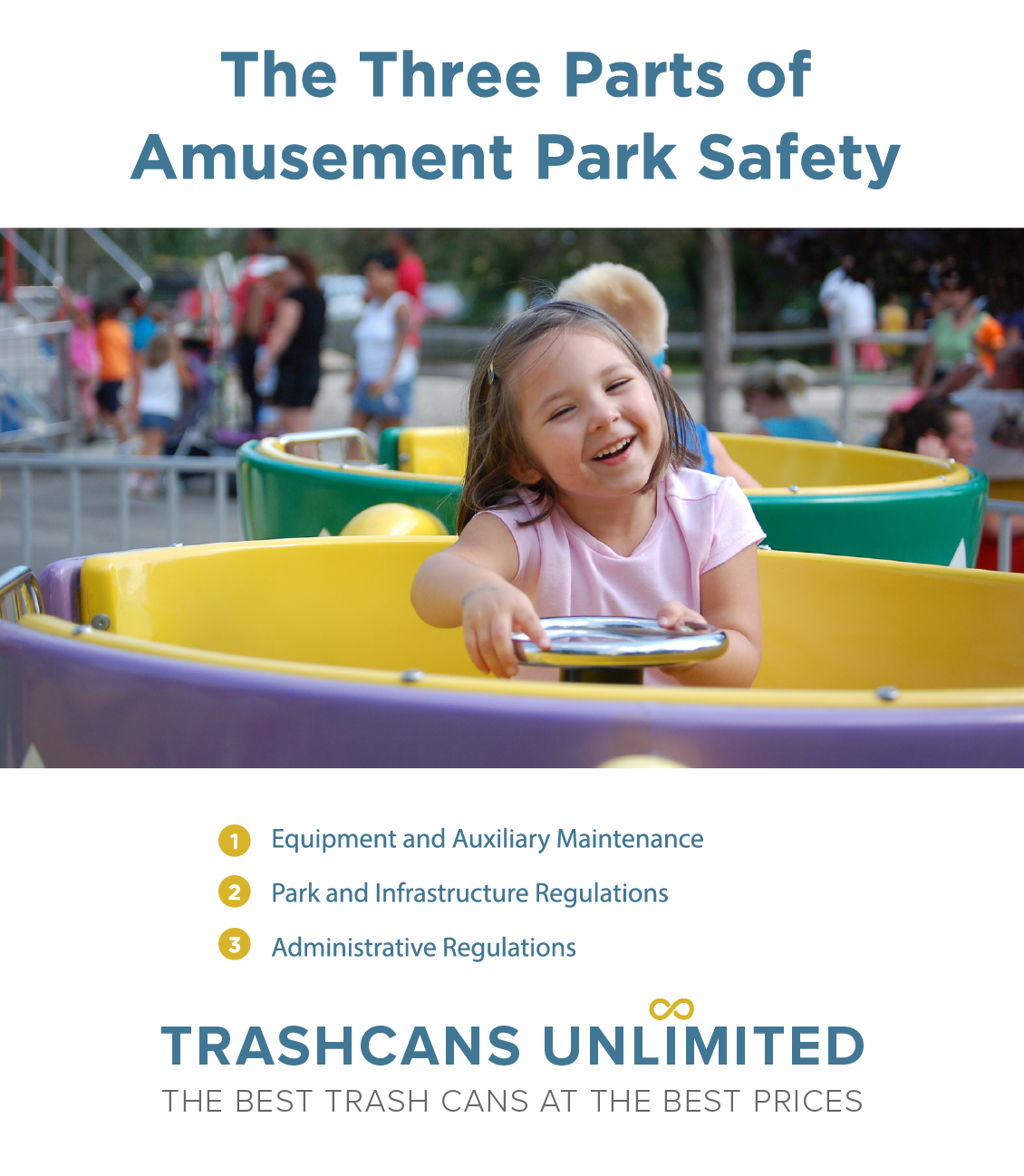 Regulations shift state by state, but you can see an overview of various regulations here. For the purposes below, we'll use California's regulations as an example. You can think about most amusement park safety and regulatory practices as falling into one of three categories:
Equipment and auxiliary maintenance - Depending on whether the amusement park contains mobile or stationary amusement rides, the regulations might change. An interesting thing to note is that mobile amusement rides are often extremely safe, due to their need to conform to safety regulations across state lines. States generally govern and regulate the design, signal systems, speed limiting devices, manufacturer's analyses, inspections, and permitting.
Park and infrastructure regulations - These regulations usually apply to what is required in a park setting in terms of sanitation, ADA compliance, and other safety and infrastructure related instances.
Administrative regulations - Administrative regulations in the amusement park space relate to proper permitting, compliance, and insurance requirements. They also govern the requirements surrounding accident response and notification, as well as any required fees for operating a park.
Sanitation
Regulations for sanitation are complicated, and we won't dive too deeply into them here, but know that any theme park or amusement park that serves food or has restroom facilities is required to abide by standards for the operation of those facilities.
That means that all restaurants are required to have permits to prepare and serve food, and so on and so forth. In terms of workplace health, OSHA is a great resource to start with, and the NSF has great resources about audits and compliance on their website.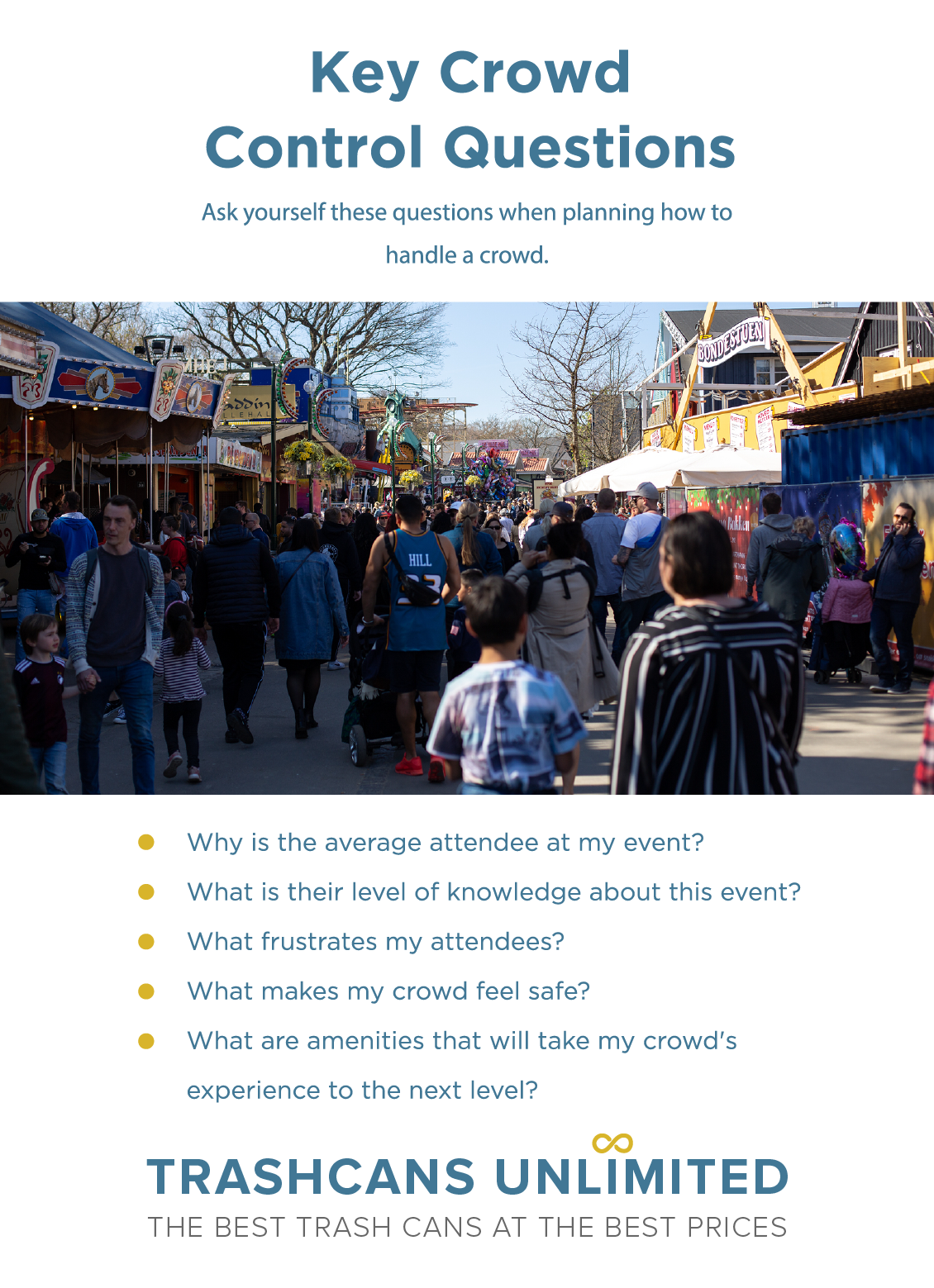 Crowd Control
A good crowd control plan is almost mandatory for managing the hustle and bustle of an amusement park. Without the right management strategy, in the event of an accident, bad things can happen. We've written about crowd control before, and you can learn more about strategies in those articles, but here are a few important tips.
Knowing the audience who will be attending your event is perhaps the most important thing on the list. Having a good read on the type of people who will be attending your event will save you headaches down the road as well as giving you insight into how you might structure the flow of the crowd on the day of the event. Here are some questions to ask yourself:
Why is the average attendee at my event?
What is their level of knowledge about the event?
What frustrates my attendees?
What makes my crowd feel safe?
What are amenities that will take my crowd's experience to the next level?
Don't fall into the "ideal world" trap, which generally means believing that you'll be able to control everything and nothing will ever be able to go wrong. Crowds are big and difficult to control, and one of the primary things you have to think about is how you're going to direct and communicate with it once the event is in full swing. So, how many signs are you going to have? What will they be? Are you going to give maps to attendees, and does your map accurately reflect where everything is? Remember: not everyone navigates the world in the same way, and there's no such thing as over communicating as far as crowd control is concerned.
Ensure that your volunteers and staff are all trained in the best crowd management and control techniques is another important component. Have you built out a plan describing who the point people are, complete with an emergency evacuation plan as well as plenty of diagrams and scenarios?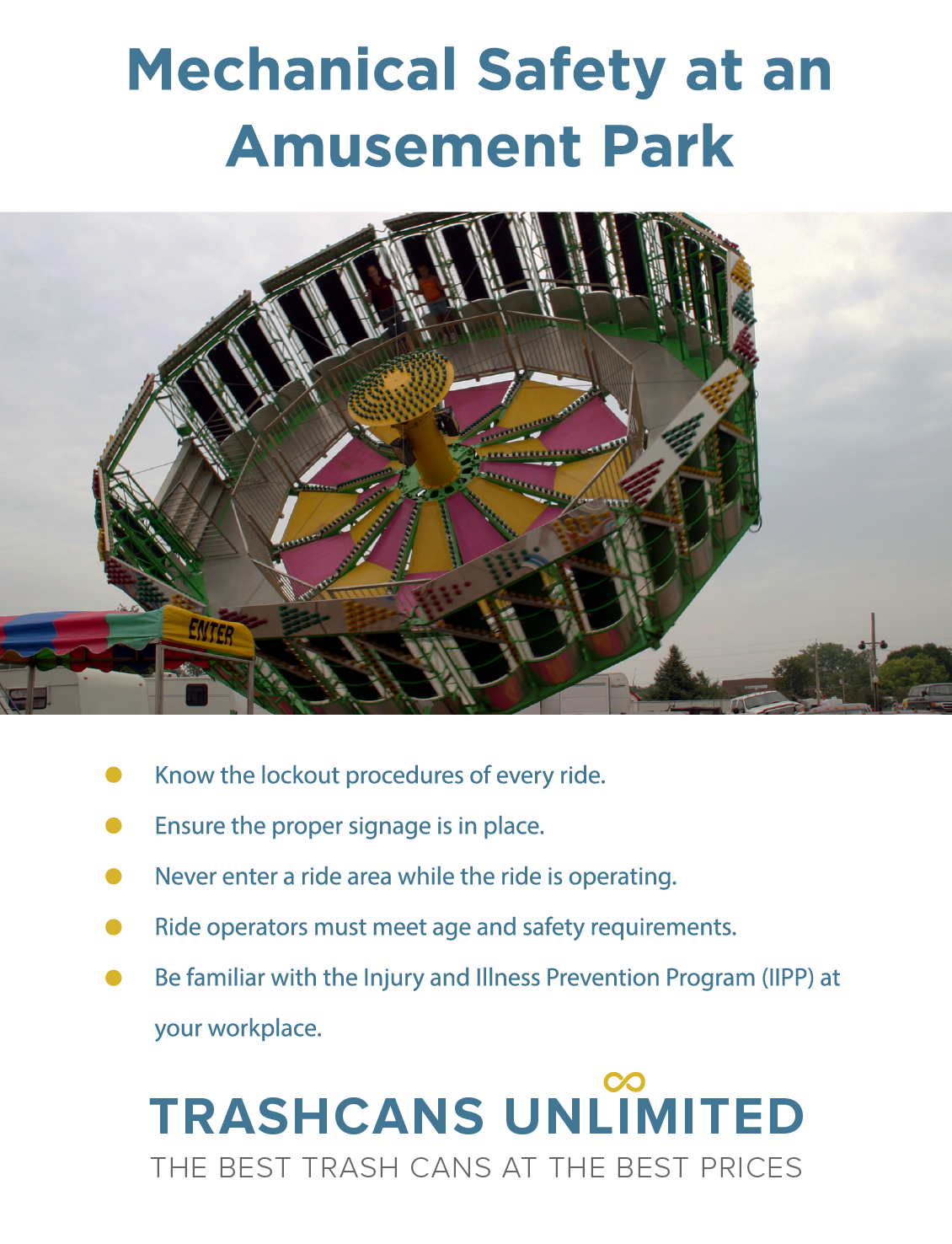 Mechanical Safety
Ensuring that every device meets mechanical safety regulations is of paramount importance. If you're ever in an amusement park and you see any warning signs, let someone know. If you're an amusement park worker, here are some important things to remember from OSHA:
Know and use the lockout/tagout procedures of each ride. Don't enter a ride area unless you're sure that the ride has been turned off/tagged out/shut down.
Ensure that proper signage is in place, and never enter a ride area while the ride is operating. Workers have been killed for ignoring this guideline. Stay within areas that are clearly marked for safety. Don't tamper with any onboard safety features either.
Ride operators are required to meet both age and training requirements before operating different types of rides. If you are unsure about whether or not you are qualified to operate a ride, talk to a supervisor.
Be familiar with your work's Injury and Illness Prevention Program (IIPP). There are many hazards at an amusement park, and being aware of them and knowing how to navigate them will ensure your and your customers' safety.
Need to Purchase Safety Equipment?
Trashcans Unlimited is the best source for waste solutions for amusement parks, as well as selling crowd control barriers and concrete bollards. If you're interested in learning more about sustainable waste management, our blog has a number of resources that might be useful to facility owners. Check out our guide to picking a trash can for a public space. Or consult one of our informative articles on the way Disney manages trash cans at the largest amusement parks in the world. Our wide inventory covers the needs of a variety of customers, and our helpful staff are always on hand to provide expert advice to ensure that you're getting the best trash cans and crowd management equipment around. Get in touch with us, or just start browsing our inventory.