Outdoor ashtrays and urns help keep your storefront, office building or restaurant beautiful by encouraging visitors to properly dispose of their cigarette butts in a container instead of on the ground. For these outdoor ashtrays and urns to serve their purpose, they must be easy to spot and easy to use. They must be durable - standing up to inclement weather, the sun's beaming UV rays, and daily wear-and-tear. The ideal ashtray is easy on the eyes and easy for your staff to empty, maintain and clean.
We've rounded up a list our favorite outdoor ashtrays and urn choices for outdoor restaurants like fast food chains and independently-owned establishments as well as convenience stores and office buildings. Take a read and let us know your favorites in the comments!
Smokeless Outdoor Ashtray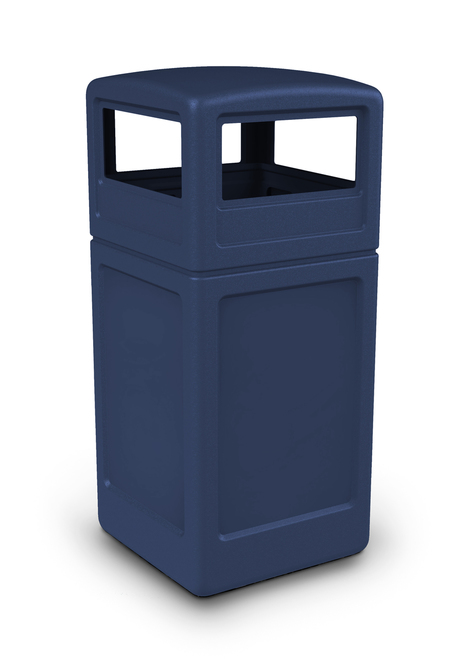 The smokeless outdoor ashtray is one of our top selling outdoor ashtrays and is considered the industry standard. These things are highly durable and weather resistant. This ashtray is constructed from concrete and equipped with full steel rebar caging for added strength and durability.
The large opening at the top and its triangular shape make it easy to toss a cigarette into and provides a self-extinguishing design. The access door in the back and the included steel and sand pail, make cleaning easy. These outdoor ashtrays will withstand years of use in the most demanding environments.
4 Gallon Smokers Oasis Steel Outdoor Ashtray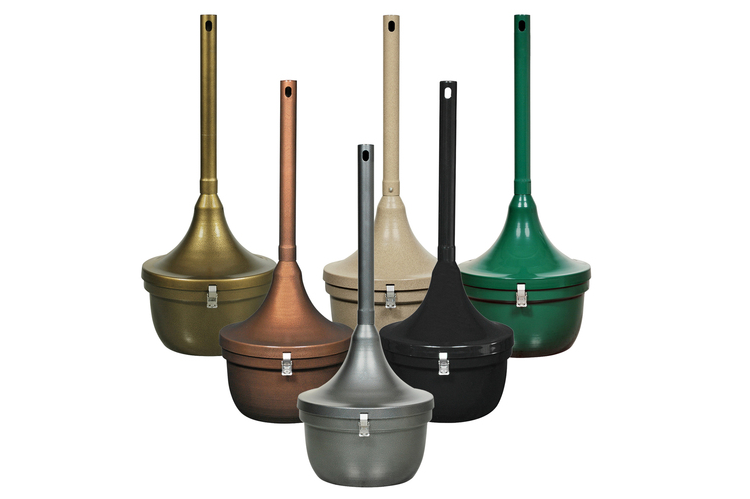 The 4 gallon smokers oasis steel outdoor ashtray comes in a variety of colors like gold, green, and black. Not many outdoor ashtrays offer these color choices. They're made of fire-safe steel so they won't melt or burn.
A 4.5 gallon removable bucket at the bottom of the receptacle makes emptying them easy. This steel ashtray can be and should be cleaned regularly with a damp cloth.
Smokeless Concrete Outdoor Ashtray Smokers Receptacle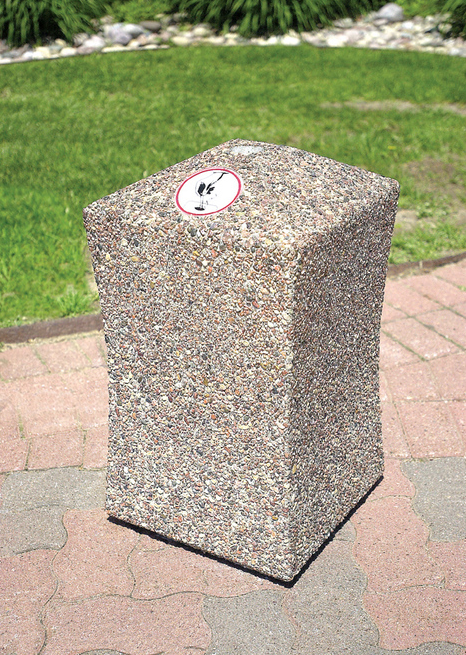 Durable and weather resistant, the 300-lb Smokeless Concrete Outdoor Ashtray Smokers Receptacle is sturdy as a rock for outdoor use. It comes in a variety of Exposed Aggregate, Granitex, and Weatherstone colors so you can match it to your trash cans or the entrance to your building.
Concrete Ash Urn Outdoor Ashtray Cigarette Receptacle
https://trashcansunlimited.com/concrete-ash-urn-outdoor-ashtray-cigarette-smokers-receptacle-tf2000/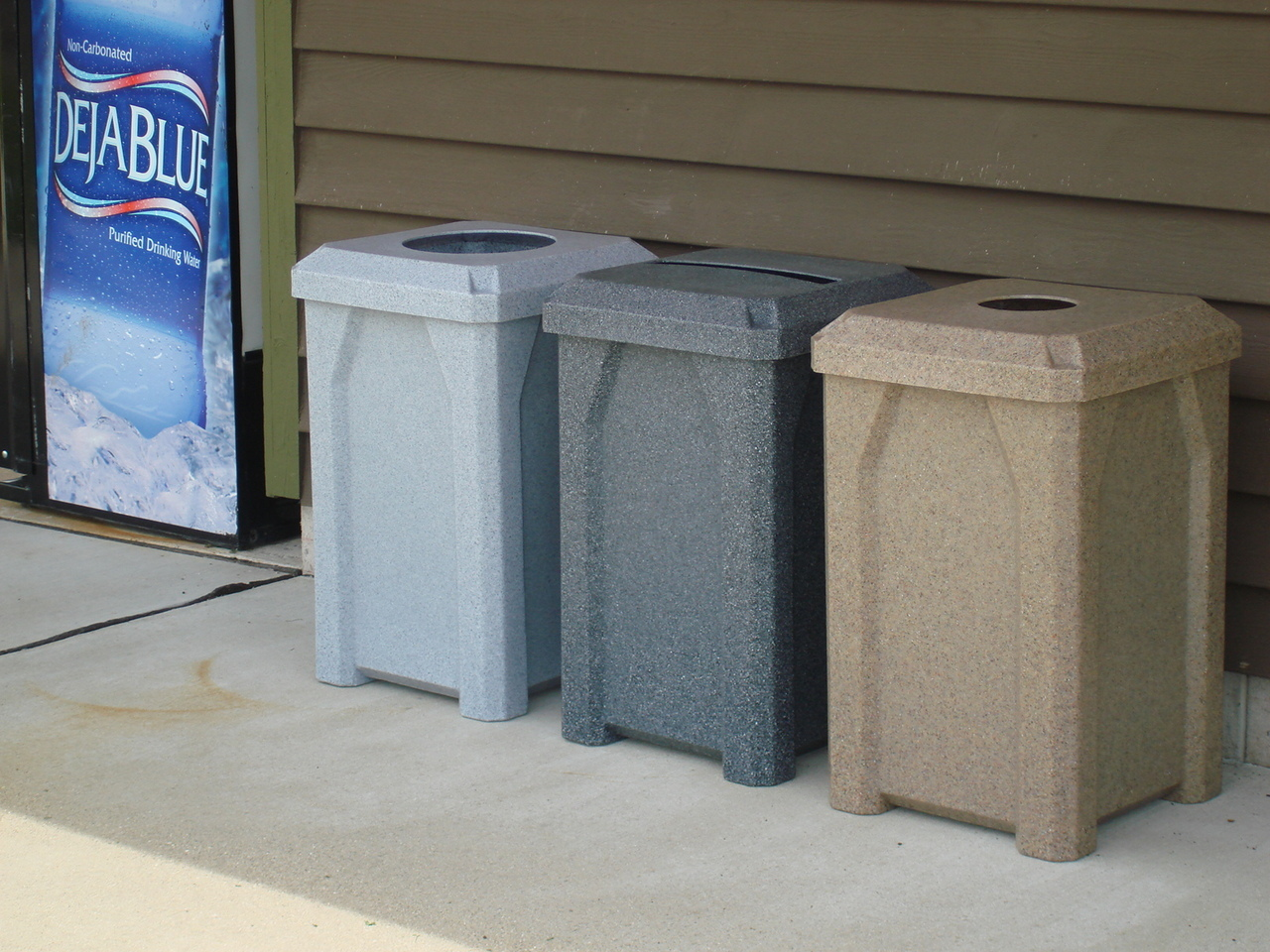 This concrete outdoor ashtray urn is a smaller, lighter durable concrete ashtray. Unlike the others we've covered to this point, this ash urn relies on sand to extinguish cigarette butts. This urn is easy to clean and comes in a variety of colors to match the exterior of your building.
Triple Circle Design Concrete Smooth Ash Urn Outdoor Ashtray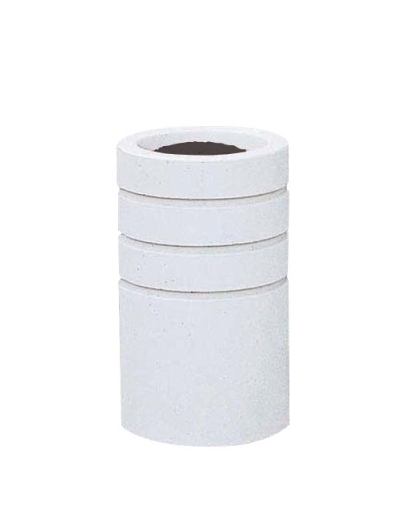 This circular concrete ashtray and ash urn has a great circular, modern design. It comes in several shades of of "smooth" colors like the White shown above, as well as a half-dozen exposed rock and Weatherstone colors. This ashtray also uses sand and a screen.
Plastic Outdoor Smokeless Ashtray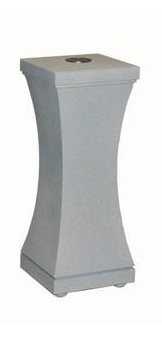 This sleek designed outdoor ashtray and ash urn is made from heavy duty plastic to make it durable in all weather conditions. It's available in 20 colors, so you can easily match it to your trashcans and building entrances. Unlike the 300 pound concrete behemoths, this plastic snuffer weighs only 18 pounds. A concrete base keeps it tethered to the earth despite its light weight. To empty, the snuffer cover comes off, and the entire snuffer tube is emptied.
53 Gallon Concrete 4 Way Lid Trash Can and Ashtray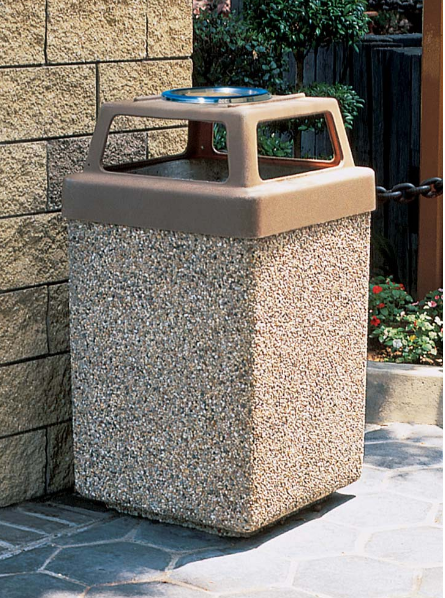 Not all businesses look to acquire separate trash cans and ashtrays. This 53 Gallon Concrete 4 Way Lid Trash Can and Ashtray is a popular option as a combination for businesses looking to consolidate their receptacles. Technically, the ashtray is just an optional add-on feature to a what is a rock-solid trash can.
The can holds 53 gallons and is equipped with 615 pounds of concrete and rebar. It's an extremely durable can that is ideal for outdoor restaurants that need easy, central access to both a trash receptacle and ash tray.
53 Gallon Concrete 2 Way Dome Top Outdoor Trash Can And Ash Tray
Like our last pick, this outdoor trash can and ashtray consolidates your cans and trays into one receptacle. The 2 Way Dome Top Outdoor Trash Can And Ash Tray is about as sleek and stylish as a 53-gallon dual-purpose trash can gets. The ashtray option is located on the side of the can, instead of the top. It comes in several different colors and finishes as well.
5 Quart Smokers Outpost Patio Plastic Outdoor Ashtray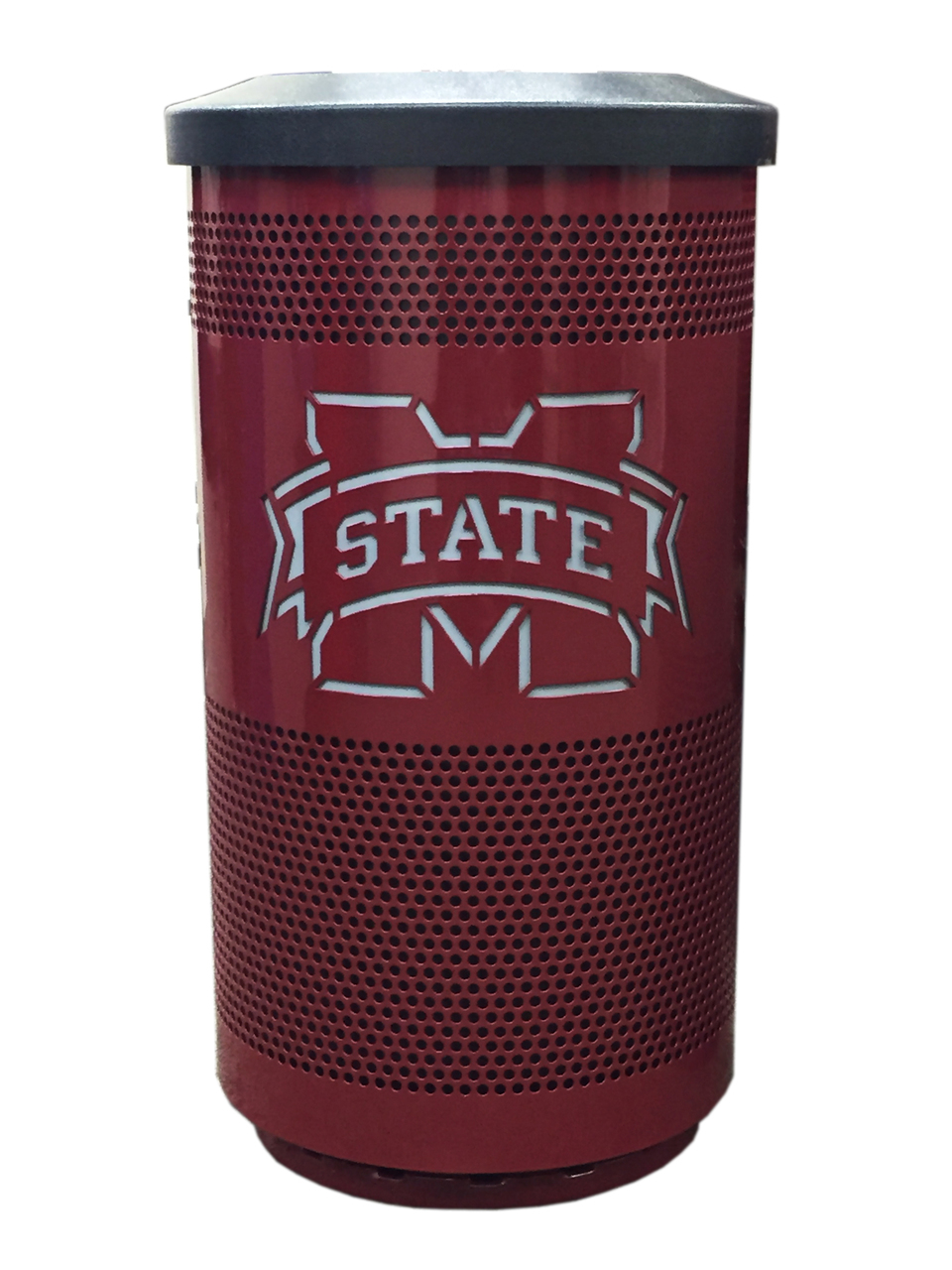 This 5 Quart Smokers Outpost Patio Plastic Outdoor Ashtray is made from durable plastic and weighs less than five pounds. They can be moved and emptied easily, and you'll see a lot of these types of ashtrays used on small restaurant patios and in homeowners' backyards. They come with galvanized bucket for easy maintenance and don't require the use of water or sand - a common frustration of residential and small business ashtray owners.
5 Quart Smokers Outpost Site Saver Plastic Outdoor Ashtray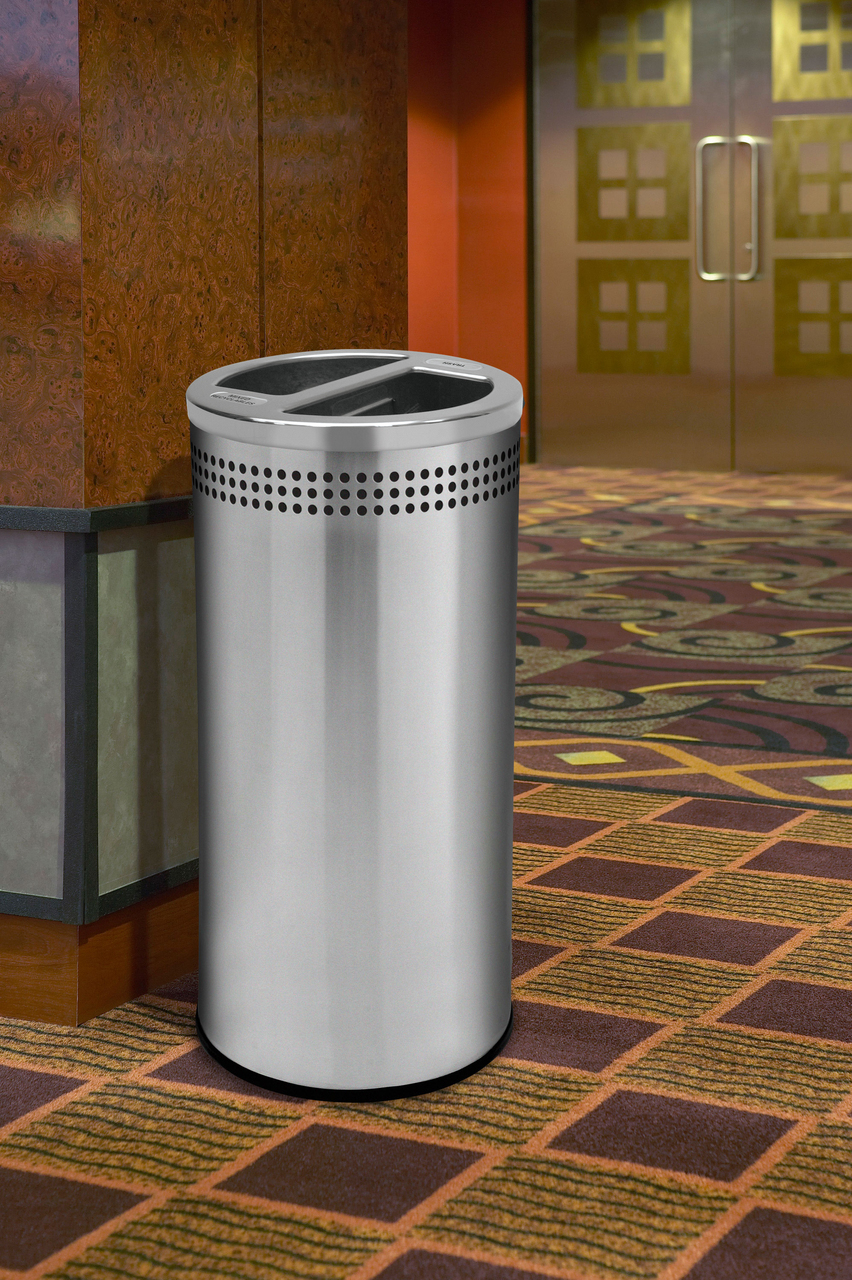 These Smokers Outpost Outdoor Ashtrays are the first patented oxygen-restricting outdoor ashtray. No sand or water is needed as the design provides self-extinguishing. These ashtrays are available in the four matte colors seen above. The hexagonal design make it a unique, stylish plastic ashtray option. It comes with a pail for easy clean up too.
Decisions, Decisions
Whether you choose a large concrete urn, a stylish green steel model, a cylindrical concrete ash tray or a lightweight plastic smoker's outpost, there are a bevy of great choices for restaurants and offices.
With so many choices and criteria, choosing the right outdoor ashtray for your business isn't so easy. We hope this article has helped you narrow your choices in finding the right outdoor ashtray for your business.