Trash cans and recycling containers are an important part of any organized office. They encourage everyone to throw out trash, recycle reusable materials (especially paper, which accounts for 35% of office trash), and keep their work areas tidy. Selecting the right type of trash can in the proper size and style is key for maintaining the appearance and cleanliness of an office space.
Finding the Right Trash Can for Any Part of Your Office
Choosing office trash cans is easier if you think of each part of your office and its particular waste disposal needs. What works well to keep your lobby clean and litter-free will be different from the trash cans you choose to stow under each employee's desk. A trash can needs to function well in its space in order for people to use it properly, so it is well worth thinking about what kind of trash can is the best fit for each office area.
Recycling Trash Cans
In order for a recycling trash can to be useful, it needs to help those who use it understand which materials should go where. Along with being clearly marked, a good recycling bin should be the right size, shape, and color for the area it is used in.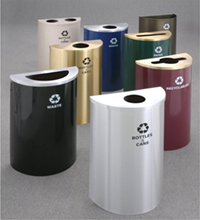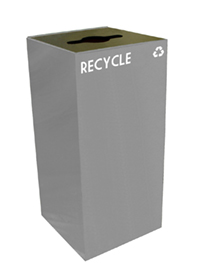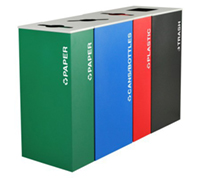 Best office recycling bins: steel recycling containers, half-round recycling containers, square recycling bins
Perfect for: promoting recycling among employees, reducing paper waste.
Touchless Trash Cans
A touchless trash can allows for hands-free disposal of waste, helping employees keep their hands clean when they make a trip to the trash can. In your office, this may be especially helpful in particular work areas.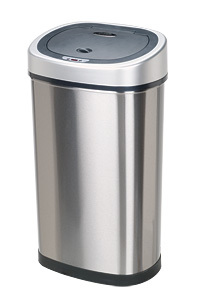 Best touchless trash cans: iTouchless, Nine Stars.
Perfect for: break rooms, office kitchens, common areas, offices with dogs.
Plastic Office Wastebaskets and Under Desk Trash Cans
Plastic wastebaskets are usually the most used trash cans in any office. They are available in a variety of sizes and styles so you can place the right wastebasket in the right place, including under desks as needed.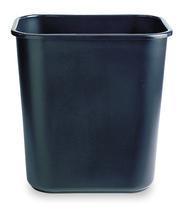 Best office wastebaskets: plastic office wastebaskets.
Perfect for: cubicles, under desks, common areas, copy rooms.
Foyer and Lobby Trash Cans
Trash cans in a foyer or lobby need to fit the design concept of your office. Matching the look of a trash can to its surrounding environment can help your office stay tidy while looking stylish.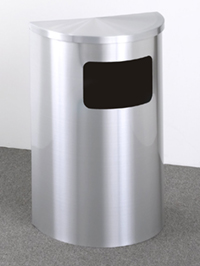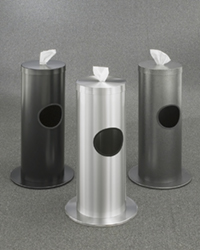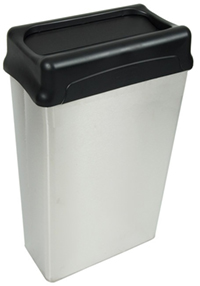 Best foyer and lobby trash cans: designer office wastebaskets, stainless steel trash cans, skinny trash cans.
Perfect for: areas with a sleek design concept, public areas where you meet with clients.
Kitchen and Break Room Trash Cans
Kitchen trash cans need to be durable and easy to clean. Consider the size of your break room or kitchen trash can you need in terms of the volume of waste they will collect throughout a day.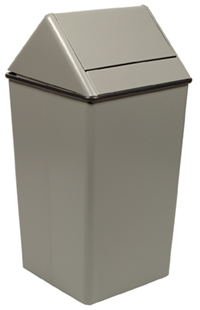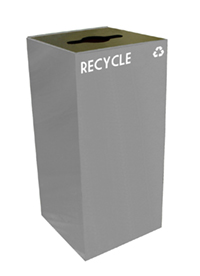 Best kitchen and break room trash cans: indoor push-top trash cans, steel indoor trash cans.
Perfect for: any areas where food is prepped.
Locking Trash Cans
Locking trash cans are a necessity in any office where sensitive documents are handled. If carelessly tossed, sensitive documents can easily be dug out of the trash. Locking trash cans provide an extra layer of protection to diversify your security strategy.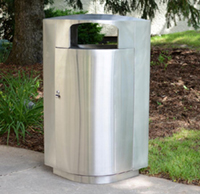 Best locking trash cans: indoor trash cans with keyed locks.
Perfect for: corporate headquarters, law offices, and other places where confidential files may be thrown out.
Benefits of Proper Disposal
An organized office needs the right waste containers to remain functional and clean. Kitchen garbage kept sealed up in a lidded can, for instance, can help trap food smells in the break room, and the right recycling bins can encourage employees to participate in your office's green initiatives. Wastebaskets within arm's reach of your workers means they are more likely to keep desks and common areas clean.
Size Selection Based on Use
The size of the right trash can depends on where it will be situated, the size of the trash put into it, how many people will use it, and how often it will be emptied. High traffic areas or places where larger items are thrown out warrant larger trash cans; smaller wastebaskets may be suitable for under individual desks or areas where only paper trash is disposed of.
Color Coding Promotes Recycling
Color-coded recycling bins can facilitate faster, easier recycling, and the easier recycling is for employees the more likely they are to do it. Most general recycling bins are blue but you can improvise and use a different color for each material (i.e. green for bottles, yellow for plastic, et.c) and create a color-coded recycling system for your office.
The Importance of Placement and Visibility
The best trash can is one that is properly placed in your office area. The more visible and conveniently placed a can is, the more likely everyone is to use it. Any place clutter or litter tends to accumulate is likely a good place to put a trash can. Making sure each can is easily accessible to those who need it is key for ensuring it is put to proper use.
Keep Your Office Spotless With Proper Trash Cans
The best office trash can is one that suits your office space and the needs of your employees. Deciding on the right type and size of your office trash cans should be easier once you have considered the placement of each can and how it will be used. With the right trash cans and recycling bins in place, you can ensure your office remains clean, green, and organized.